Aldersgate Ward
¶Introduction
Aldersgate Ward
is west of
Cripplegate Ward
. Both the ward and its main street are named after
Aldersgate
, the north gate of the city.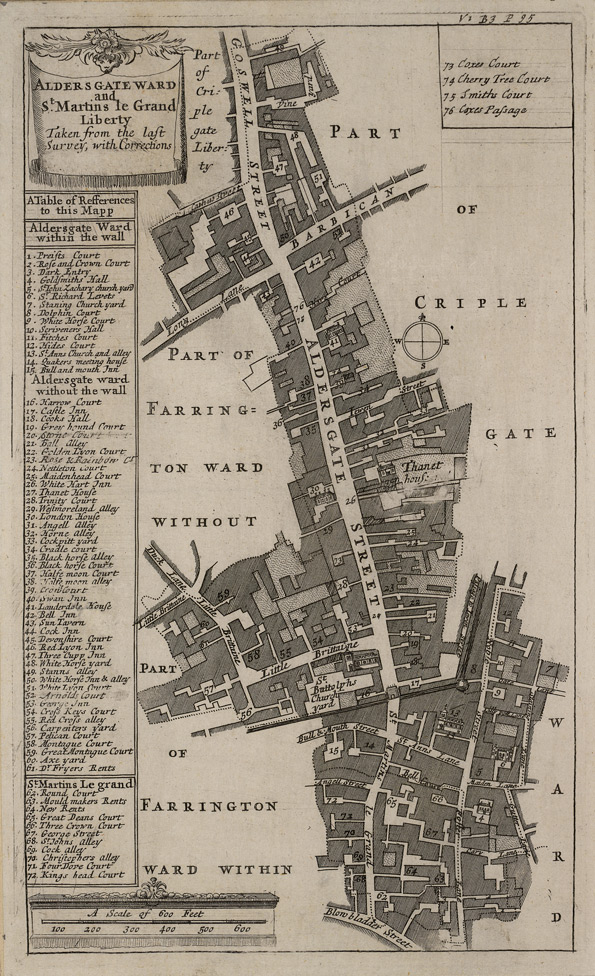 ¶Links to Chapters in the
Survey of London
¶1603 Description of Ward Boundaries
¶Note on Ward boundaries on Agas Map
Ward boundaries drawn on the Agas map are approximate. The Agas map does not lend itself well to georeferencing or georectification, which means that we have not been able to import the raster-based or vector-based shapes that have been generously offered to us by other projects. We have therefore used our drawing tools to draw polygons on the map surface that follow the lines traced verbally in the opening paragraph(s) of each ward chapter in the
Survey
.
Read more about the cartographic genres of the Agas map
.
Notes
The 1603

Survey

is widely available in reprints of C.L. Kingsford's two-volume 1908 edition (Kingsford) and also in the British History Online transcription of the Kingsford edition (BHO). MoEML is completing its editions of all four texts in the following order: 1598, 1633, 1618, and 1603. (JJ)↑
I.e., Aldersgate Bars. (JZ)↑
References
Citation

Stow, John

.

A suruay of London· Conteyning the originall, antiquity, increase, moderne estate, and description of that city, written in the yeare 1598. by Iohn Stow citizen of London. Since by the same author increased, with diuers rare notes of antiquity, and published in the yeare, 1603. Also an apologie (or defence) against the opinion of some men, concerning that citie, the greatnesse thereof. VVith an appendix, contayning in Latine Libellum de situ & nobilitate Londini: written by William Fitzstephen, in the raigne of Henry the second

. London: John Windet,

1603

. STC 23343. U of Illinois (Urbana-Champaign Campus) copy.

This item is cited in the following documents:

Citation

This item is cited in the following documents:

Citation

This item is cited in the following documents:
Cite this page
RIS file (for RefMan, RefWorks, EndNote etc.)
Provider: University of Victoria
Database: The Map of Early Modern London
Content: text/plain; charset="utf-8"

TY  - ELEC
A1  - Halepuram Sridhar, Amogha
A1  - Zabel, Jamie
ED  - Jenstad, Janelle
T1  - Aldersgate Ward
T2  - The Map of Early Modern London
ET  - 7.0
PY  - 2022
DA  - 2022/05/05
CY  - Victoria
PB  - University of Victoria
LA  - English
UR  - https://mapoflondon.uvic.ca/edition/7.0/ALDE2.htm
UR  - https://mapoflondon.uvic.ca/edition/7.0/xml/standalone/ALDE2.xml
ER  - 
TEI citation
<bibl type="mla"><author><name ref="#ALHS1"><surname>Halepuram Sridhar</surname>, <forename>Amogha</forename> <forename>Lakshmi</forename></name></author>, and <author><name ref="#ZABE1"><forename>Jamie</forename> <surname>Zabel</surname></name></author>. <title level="a">Aldersgate Ward</title>. <title level="m">The Map of Early Modern London</title>, Edition <edition>7.0</edition>, edited by <editor><name ref="#JENS1"><forename>Janelle</forename> <surname>Jenstad</surname></name></editor>, <publisher>U of Victoria</publisher>, <date when="2022-05-05">05 May 2022</date>, <ref target="https://mapoflondon.uvic.ca/edition/7.0/ALDE2.htm">mapoflondon.uvic.ca/edition/7.0/ALDE2.htm</ref>.</bibl>
Locations
Cripplegate Ward is mentioned in the following documents:

Maiden Lane (Wood Street) is mentioned in the following documents:

Staining Lane is mentioned in the following documents:

Haberdashers' Hall is mentioned in the following documents:

St. Mary Staining is mentioned in the following documents:

Wood Street is mentioned in the following documents:

Oat Lane is mentioned in the following documents:

Bacon House is mentioned in the following documents:

Noble Street is mentioned in the following documents:

Lily Pot Lane is mentioned in the following documents:

St. John Zachary is mentioned in the following documents:

Foster Lane is mentioned in the following documents:

Gutter Lane is mentioned in the following documents:

Carey Lane is mentioned in the following documents:

Goldsmiths' Hall is mentioned in the following documents:

Cheapside Street

, one of the most important streets in early modern

London

, ran east-west between the

Great Conduit

at the foot of

Old Jewry

to the

Little Conduit

by

St. Paul's churchyard

. The terminus of all the northbound streets from the river, the broad expanse of

Cheapside Street

separated the northern wards from the southern wards. It was lined with buildings three, four, and even five stories tall, whose shopfronts were open to the light and set out with attractive displays of luxury commodities (

Weinreb and Hibbert 148

).

Cheapside Street

was the centre of

London

's wealth, with many

mercers

' and

goldsmiths

' shops located there. It was also the most sacred stretch of the processional route, being traced both by the linear east-west route of a royal entry and by the circular route of the annual mayoral procession.

Cheapside Street is mentioned in the following documents:

St. Vedast is mentioned in the following documents:

London is mentioned in the following documents:

St. Olave (Silver Street) is mentioned in the following documents:

Silver Street is mentioned in the following documents:

St. Leonard (Foster Lane) is mentioned in the following documents:

St. Anne's Lane is mentioned in the following documents:

St. Anne's Alley is mentioned in the following documents:

Cripplegate is mentioned in the following documents:

Farringdon Within Ward is mentioned in the following documents:

St. Martin's Lane (le Grand) is mentioned in the following documents:

St. Martin's le Grand is mentioned in the following documents:

Aldersgate Street is mentioned in the following documents:

Houndsditch Street is mentioned in the following documents:

Long Lane (Aldersgate) is mentioned in the following documents:

Goswell Road is mentioned in the following documents:

Aldersgate Bars is mentioned in the following documents:

St. Botolph (Aldersgate) is mentioned in the following documents:

Little Britain is mentioned in the following documents:

St. Bartolomew's Priory is mentioned in the following documents:

St. Bartholomew's Hospital is mentioned in the following documents:
Variant spellings
Documents using the spelling [Aldersgate] VVard

Documents using the spelling Alderſgate

Documents using the spelling Aldersgate

Documents using the spelling Aldersgate street Ward

Documents using the spelling Alderſgate ſtreete ward

Documents using the spelling Alderſgate ſtréete Warde

Documents using the spelling ALDERSGATE VVARD

Documents using the spelling Aldersgate VVard

Documents using the spelling Alderſgate Ward

Documents using the spelling Aldersgate Ward

Documents using the spelling Alderſgate ward

Documents using the spelling Aldersgate ward

Documents using the spelling Alderſgate warde

Documents using the spelling Alderſgate Warde

Documents using the spelling Aldrſgate Ward