Billingsgate Ward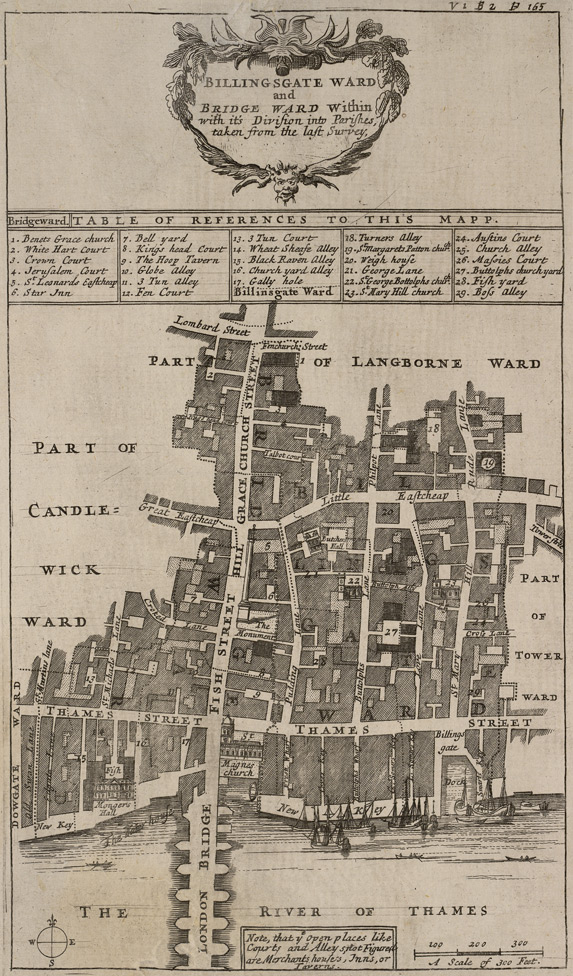 ¶Links to Chapters in the
Survey of London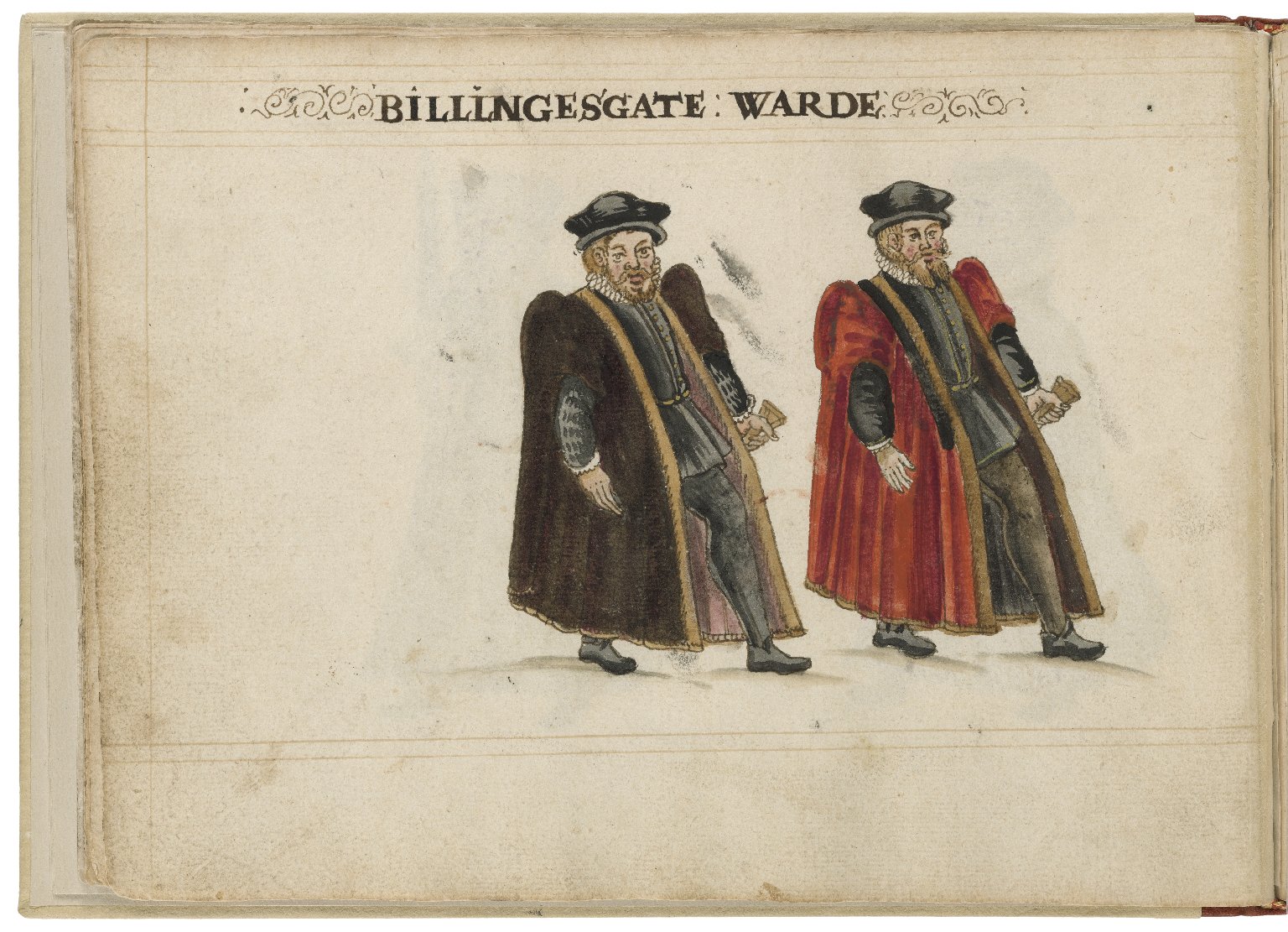 ¶1603 Description of Ward Boundaries
The following diplomatic transcription of the opening paragraph(s) of the 1603 chapter on this ward will eventually be subsumed into the MoEML edition of the 1603
Survey
.
1
Each ward chapter opens with a narrative circumnavigation of the ward—a verbal
beating of the bounds
that MoEML first transcribed in 2004 and later used to facilitate the drawing of approximate ward boundaries on our edition of the Agas map. Source:
John Stow,

A Survey of London

(London, 1603; STC #23343)
.
BIllingſgate Ward
, beginneth at the weſt ende of
Towerſtreete warde
in
Thames ſtreete
about
Smarts key
, and runneth downe along that ſtreete on the ſouthſide, to
ſaint Magnus Church
at the
Bridge
foote, and on the North ſide of the ſaide
Thames ſtreet
, frō ouer againſt
Smarts key
, till ouer againſt the north weſt corner of
ſaint Magnus Church
aforeſayd: on this north ſide of
Thames ſtreete
is
ſaint Marie Hil lane
, up to
ſaint Margarets Church
, and then part of
ſaint Margarets Pattents ſtreete
, at the ende of
ſaint Marie hill lane
: Next out of
Thames ſtreete
is
Lucas lane
, and then
Buttolph lane
, and at the North end thereof
Philpot lane
, then is
Rotherlane
, of olde time ſo called, and thwart the ſame lane is little
Eaſtcheape
, and theſe be the bounds of
Billinſgate warde
.
¶Note on Ward boundaries on Agas Map
Ward boundaries drawn on the Agas map are approximate. The Agas map does not lend itself well to georeferencing or georectification, which means that we have not been able to import the raster-based or vector-based shapes that have been generously offered to us by other projects. We have therefore used our drawing tools to draw polygons on the map surface that follow the lines traced verbally in the opening paragraph(s) of each ward chapter in the
Survey
.
Read more about the cartographic genres of the Agas map
.
References
Citation

Stow, John

.

A suruay of London· Conteyning the originall, antiquity, increase, moderne estate, and description of that city, written in the yeare 1598. by Iohn Stow citizen of London. Since by the same author increased, with diuers rare notes of antiquity, and published in the yeare, 1603. Also an apologie (or defence) against the opinion of some men, concerning that citie, the greatnesse thereof. VVith an appendix, contayning in Latine Libellum de situ & nobilitate Londini: written by William Fitzstephen, in the raigne of Henry the second

. London: John Windet,

1603

. STC 23343. U of Illinois (Urbana-Champaign Campus) copy.

This item is cited in the following documents:

Citation

This item is cited in the following documents:

Citation

This item is cited in the following documents:
Cite this page
RIS file (for RefMan, RefWorks, EndNote etc.)
Provider: University of Victoria
Database: The Map of Early Modern London
Content: text/plain; charset="utf-8"

TY  - ELEC
A1  - Zabel, Jamie
A1  - Chernyk, Melanie
ED  - Jenstad, Janelle
T1  - Billingsgate Ward
T2  - The Map of Early Modern London
ET  - 7.0
PY  - 2022
DA  - 2022/05/05
CY  - Victoria
PB  - University of Victoria
LA  - English
UR  - https://mapoflondon.uvic.ca/edition/7.0/BILL2.htm
UR  - https://mapoflondon.uvic.ca/edition/7.0/xml/standalone/BILL2.xml
ER  - 
TEI citation
<bibl type="mla"><author><name ref="#ZABE1"><surname>Zabel</surname>, <forename>Jamie</forename></name></author>, and <author><name ref="#CHER1"><forename>Melanie</forename> <surname>Chernyk</surname></name></author>. <title level="a">Billingsgate Ward</title>. <title level="m">The Map of Early Modern London</title>, Edition <edition>7.0</edition>, edited by <editor><name ref="#JENS1"><forename>Janelle</forename> <surname>Jenstad</surname></name></editor>, <publisher>U of Victoria</publisher>, <date when="2022-05-05">05 May 2022</date>, <ref target="https://mapoflondon.uvic.ca/edition/7.0/BILL2.htm">mapoflondon.uvic.ca/edition/7.0/BILL2.htm</ref>.</bibl>
Locations
Tower Street Ward is mentioned in the following documents:

Billingsgate is mentioned in the following documents:

Perhaps more than any other geophysical feature, the

Thames river

has directly affected

London

's growth and rise to prominence; historically, the city's economic, political, and military importance was dependent on its riverine location. As a tidal river, connected to the North Sea, the

Thames

allowed for transportation to and from the outside world; and, as the longest river in

England

, bordering on nine counties, it linked

London

to the country's interior. Indeed, without the

Thames

,

London

would not exist as one of Europe's most influential cities. The

Thames

, however, is notable for its dichotomous nature: it is both a natural phenomenon and a cultural construct; it lives in geological time but has been the measure of human history; and the city was built around the river, but the river has been reshaped by the city and its inhabitants.

The Thames is mentioned in the following documents:

Thames Street is mentioned in the following documents:

One of the

Legal Quays

,

Smart's Key

was primarily involved in the trade of fish. Named after its original owner, a Master Smart, the key eventually came into the possession of

London

's fraternity of cordwainers. It is perhaps most notorious for being the location of an alehouse that in

1585

was converted by a man named Wotton into a training ground for aspiring cut-purses and pickpockets. The key was an important landing place for merchant vessels throughout the sixteenth and seventeenth centuries.

Smart's Key is mentioned in the following documents:

St. Magnus is mentioned in the following documents:

As the only bridge in

London

crossing the

Thames

until

1729

,

London Bridge

was a focal point of the city. After its conversion from wood to stone, completed in

1209

, the bridge housed a variety of structures, including a chapel and a growing number of shops. The bridge was famous for the city's grisly practice of displaying traitors' heads on poles above its

gatehouses

. Despite burning down multiple times,

London Bridge

was one of the few structures not entirely destroyed by the

Great Fire of London

in

1666

.

London Bridge is mentioned in the following documents:

St. Mary at Hill Street is mentioned in the following documents:

St. Margaret Pattens is mentioned in the following documents:

Rodd Lane is mentioned in the following documents:

Love Lane (Thames Street) is mentioned in the following documents:

Botolph Lane is mentioned in the following documents:

Philpot Lane is mentioned in the following documents:

Pudding Lane is mentioned in the following documents:

Eastcheap is mentioned in the following documents:
Variant spellings
Documents using the spelling Belingsgate

Documents using the spelling Belins Gate warde

Documents using the spelling Belinsgate

Documents using the spelling BELINSGATE VVARD

Documents using the spelling Belinſgate Ward

Documents using the spelling BElinsgate Ward

Documents using the spelling Belinsgate Ward

Documents using the spelling Bill[ingsgate Ward]

Documents using the spelling Billingsgate Ward

Documents using the spelling BIllingſgate Ward

Documents using the spelling Billingſgate warde

Documents using the spelling Billins gate warde

Documents using the spelling Billinſegate warde

Documents using the spelling Billinſgate ward

Documents using the spelling Billinſgate warde

Documents using the spelling BIllinſgate warde

Documents using the spelling Billinsgate warde

Documents using the spelling Billygnes-gate Ward

Documents using the spelling Ward of Belinsgate

Documents using the spelling warde of Billinſgate