The Agas Map
¶What is the Agas map?
Civitas Londinum
is a bird's-eye view of
London
first printed from woodblocks in about
1561
. Widely known as the
Agas map,
from a spurious attribution to surveyor
Ralph Agas
(c.
1540-1621
), the map offers a richly detailed view both of the buildings and streets of the city and of its environment. No copies survive from
1561
, but a modified version was printed in
1633
. In the later version of the map, the Stuart coat of arms replaces the Elizabethan arms, and the
Royal Exchange
, which opened in
1571
, occupies the triangle created by the convergence of
Threadneedle
and
Cornhill
Streets.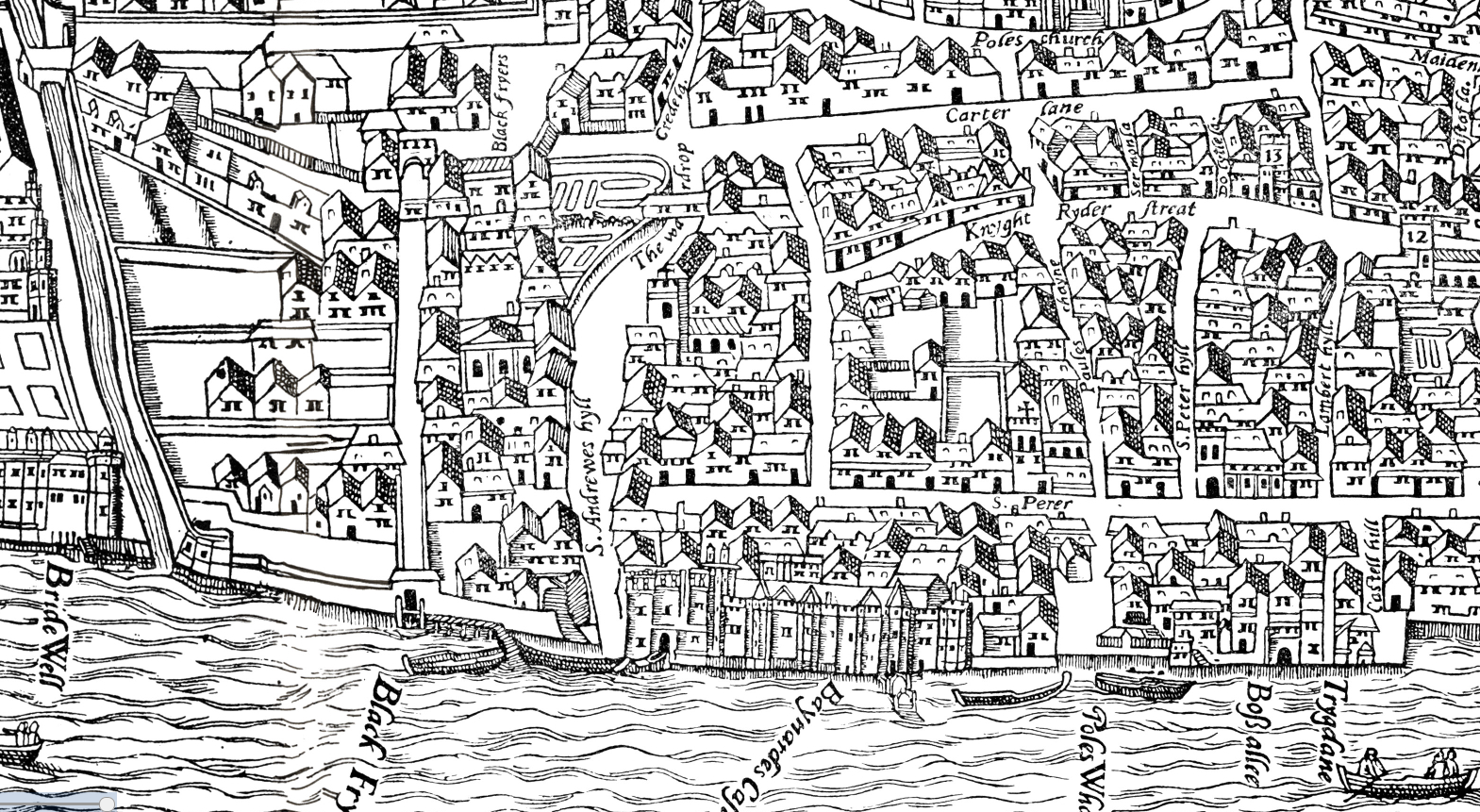 ¶MoEML and the Map
For MoEML, the map is a Graphical User Interface (GUI) that allows us to visualize literary and historical data, a material object with its own historical and aesthetic interest, and a text in its own right. Our new version of the Agas Map, first released in 2015, has an interface based on the OpenLayers 3 library. The map image was freshly scanned by the
London Metropolitan Archives
and then stitched together and edited by the MoEML team to create an ideal text. While we redraw all the streets, sites, and boundaries, we continue to develop the interface to provide maximum interactivity and drawing capabilities to our users. Our full scholarly edition of the map will include critical materials about the genre, accuracy, provenance, preservation, and subsequent adaptations of the map.
For site identifications, we are particularly indebted to the work of Adrian Prockter and Robert Taylor,
A to Z of Elizabethan London
(London: Harry Margary, 1979).
Cite this page
RIS file (for RefMan, RefWorks, EndNote etc.)
Provider: University of Victoria
Database: The Map of Early Modern London
Content: text/plain; charset="utf-8"

TY  - ELEC
A1  - Jenstad, Janelle
ED  - Jenstad, Janelle
T1  - The Agas Map
T2  - The Map of Early Modern London
ET  - 7.0
PY  - 2022
DA  - 2022/05/05
CY  - Victoria
PB  - University of Victoria
LA  - English
UR  - https://mapoflondon.uvic.ca/edition/7.0/map.htm
UR  - https://mapoflondon.uvic.ca/edition/7.0/xml/standalone/map.xml
ER  - 
TEI citation
<bibl type="mla"><author><name ref="#JENS1"><surname>Jenstad</surname>, <forename>Janelle</forename></name></author>. <title level="a">The Agas Map</title>. <title level="m">The Map of Early Modern London</title>, Edition <edition>7.0</edition>, edited by <editor><name ref="#JENS1"><forename>Janelle</forename> <surname>Jenstad</surname></name></editor>, <publisher>U of Victoria</publisher>, <date when="2022-05-05">05 May 2022</date>, <ref target="https://mapoflondon.uvic.ca/edition/7.0/map.htm">mapoflondon.uvic.ca/edition/7.0/map.htm</ref>.</bibl>