New Fish Street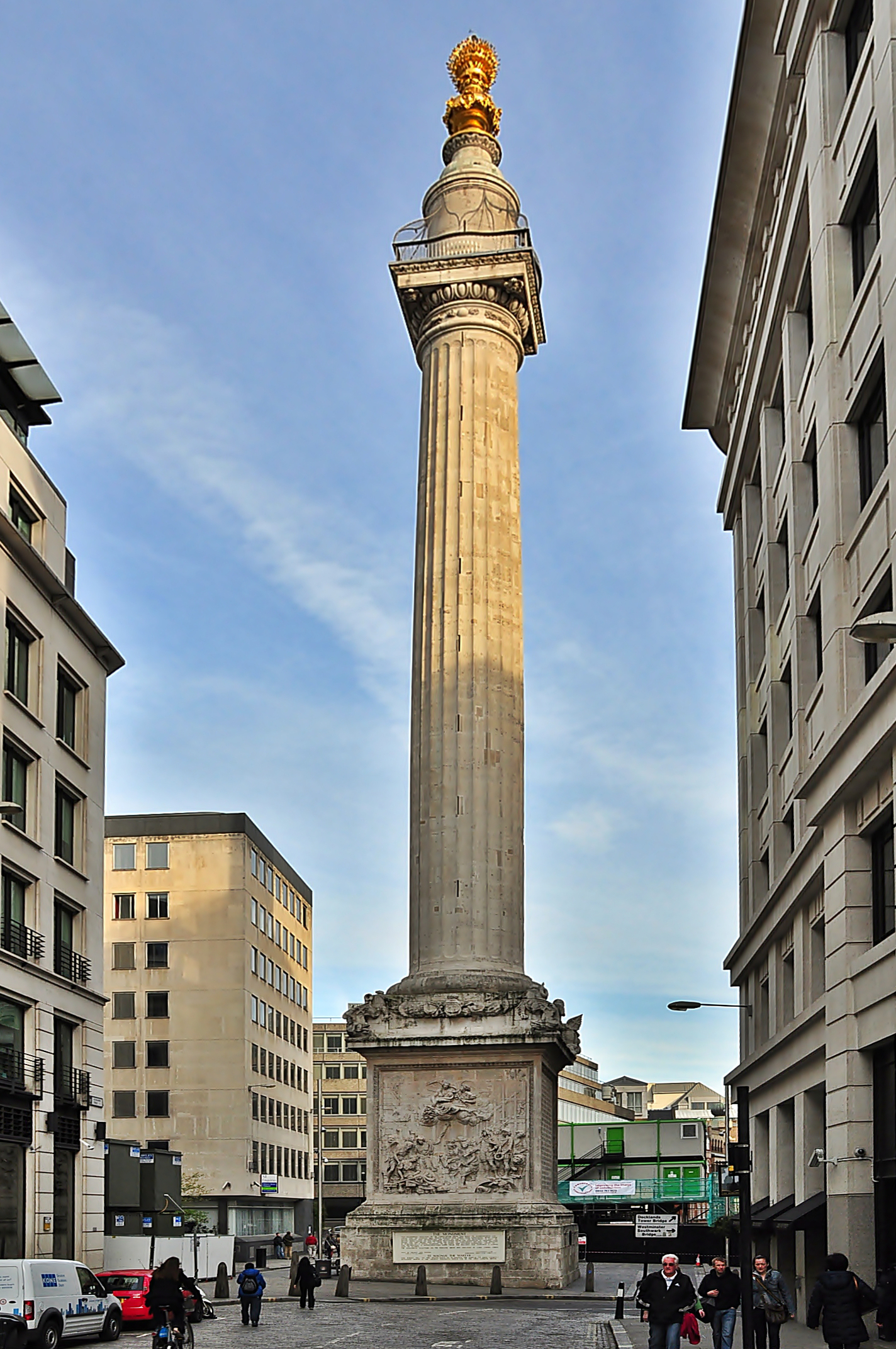 Diarist
Samuel Pepys
records that he heard of the fire
burning down all

Fish Street
(
Pepys
02 September 1666
). Although damaged in the fire,
New Fish Street
still exists in modern
London
(now known as
Fish Street Hill
). It has been greatly shortened, now running between Thames Street and Monument Street, where at this junction sits the Monument to the Great Fire of
London
(also known as
The Monument
).
References
Citation

This item is cited in the following documents:

Citation

This item is cited in the following documents:

Citation

Sugden, Edward

.

A Topographical Dictionary to the Works of Shakespeare and His Fellow Dramatists

. Manchester: Manchester UP, 1925. Remediated by Internet Archive.

This item is cited in the following documents:
Cite this page
RIS file (for RefMan, RefWorks, EndNote etc.)
Provider: University of Victoria
Database: The Map of Early Modern London
Content: text/plain; charset="utf-8"

TY  - ELEC
A1  - Takeda, Joey
ED  - Jenstad, Janelle
T1  - New Fish Street
T2  - The Map of Early Modern London
ET  - 7.0
PY  - 2022
DA  - 2022/05/05
CY  - Victoria
PB  - University of Victoria
LA  - English
UR  - https://mapoflondon.uvic.ca/edition/7.0/NEWF1.htm
UR  - https://mapoflondon.uvic.ca/edition/7.0/xml/standalone/NEWF1.xml
ER  - 
TEI citation
<bibl type="mla"><author><name ref="#TAKE1"><surname>Takeda</surname>, <forename>Joey</forename></name></author>. <title level="a">New Fish Street</title>. <title level="m">The Map of Early Modern London</title>, Edition <edition>7.0</edition>, edited by <editor><name ref="#JENS1"><forename>Janelle</forename> <surname>Jenstad</surname></name></editor>, <publisher>U of Victoria</publisher>, <date when="2022-05-05">05 May 2022</date>, <ref target="https://mapoflondon.uvic.ca/edition/7.0/NEWF1.htm">mapoflondon.uvic.ca/edition/7.0/NEWF1.htm</ref>.</bibl>
Locations
As the only bridge in

London

crossing the

Thames

until

1729

,

London Bridge

was a focal point of the city. After its conversion from wood to stone, completed in

1209

, the bridge housed a variety of structures, including a chapel and a growing number of shops. The bridge was famous for the city's grisly practice of displaying traitors' heads on poles above its

gatehouses

. Despite burning down multiple times,

London Bridge

was one of the few structures not entirely destroyed by the

Great Fire of London

in

1666

.

London Bridge is mentioned in the following documents:

Eastcheap is mentioned in the following documents:

Gracechurch Street is mentioned in the following documents:

Little Eastcheap is mentioned in the following documents:

Bridge Within Ward is mentioned in the following documents:

Billingsgate Ward is mentioned in the following documents:

London is mentioned in the following documents:
Variant spellings
Documents using the spelling Bride Street

Documents using the spelling Bridge Street

Documents using the spelling Bridge street

Documents using the spelling Bridge ſtreete

Documents using the spelling Bridge ſtréete

Documents using the spelling Bridge-street

Documents using the spelling Bridgeſtreet

Documents using the spelling Bridgeſtreete

Documents using the spelling Brigestret

Documents using the spelling Briggestrete

Documents using the spelling Brugestret

Documents using the spelling Bruggestrate

Documents using the spelling Fish Street

Documents using the spelling Fish Street Hill

Documents using the spelling Fish-street

Documents using the spelling Fish-streete

Documents using the spelling Fiſhſtreet hill

Documents using the spelling Fiſhſtreete hil

Documents using the spelling Fiſhſtréet hil

Documents using the spelling fyshstreate

Documents using the spelling new Fish street

Documents using the spelling New Fish Street

Documents using the spelling New Fiſh Street

Documents using the spelling New Fish Street Hill

Documents using the spelling New fiſh ſtreete

Documents using the spelling new Fiſh ſtréet

Documents using the spelling new Fish- street

Documents using the spelling New Fish-street

Documents using the spelling new Fish-street

Documents using the spelling New Fiſhſtreet

Documents using the spelling new fiſhſtreet

Documents using the spelling New Fishstreet

Documents using the spelling new Fiſhſtreete

Documents using the spelling New Fiſhſtreete

Documents using the spelling new fiſhſtreete

Documents using the spelling new fiſhſtréet

Documents using the spelling new Fiſhſtréete

Documents using the spelling new fiſhſtréete

Documents using the spelling New Fyſhe ſtreate

Documents using the spelling new fyshstreate

Documents using the spelling New-Fish-street

Documents using the spelling New-Fishstreet

Documents using the spelling Newfishstrete

Documents using the spelling Newfyshe Streat

Documents using the spelling Street of London Bridge