Bridge Within Ward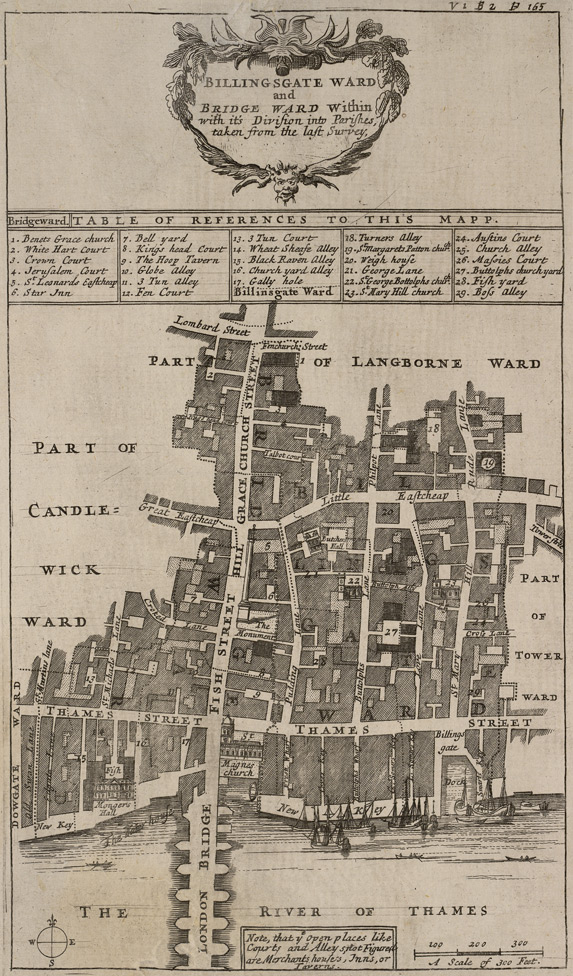 ¶Links to Chapters in the
Survey of London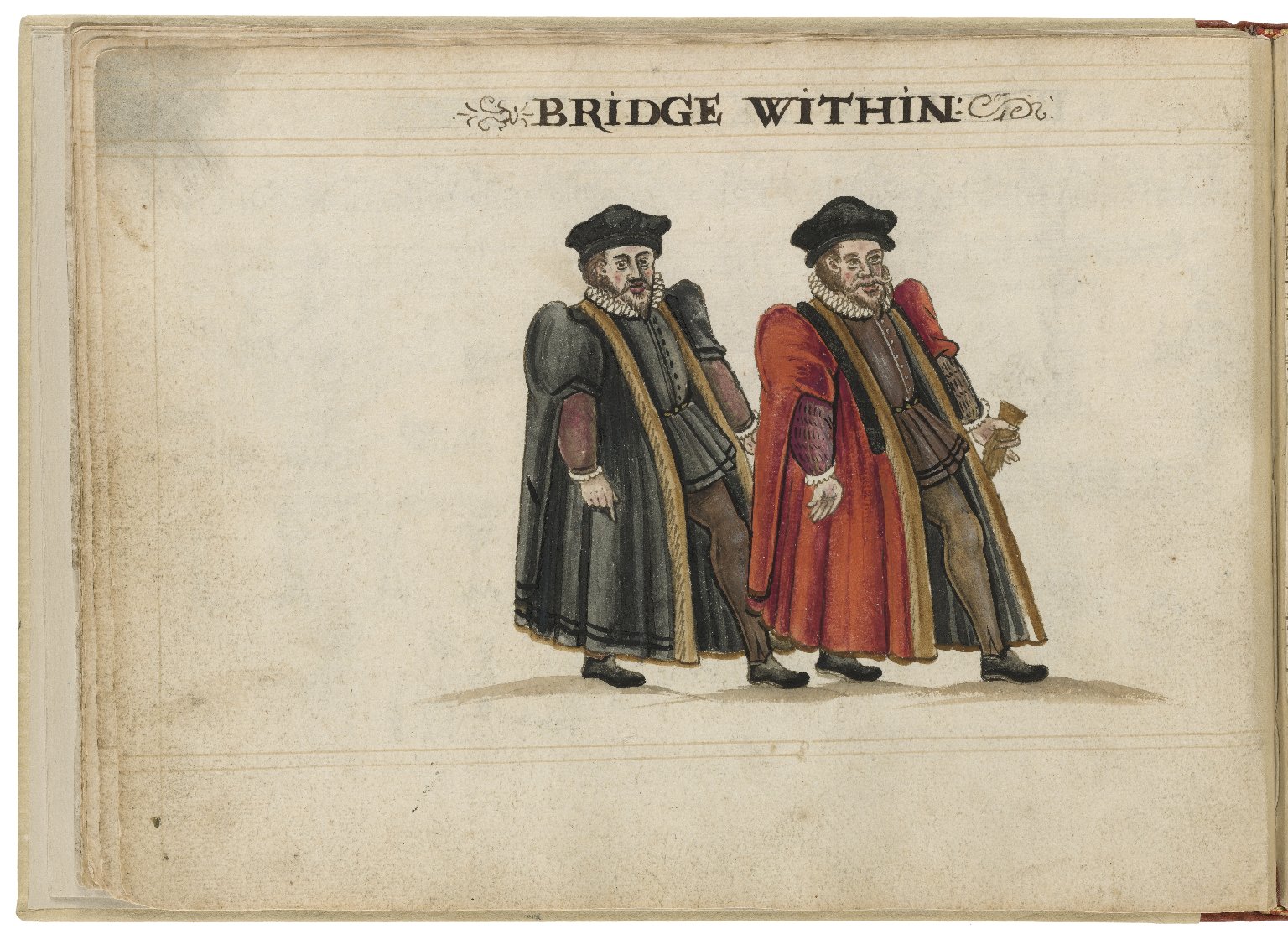 ¶1603 Description of Ward Boundaries
The following diplomatic transcription of the opening paragraph(s) of the 1603 chapter on this ward will eventually be subsumed into the MoEML edition of the 1603
Survey
.
1
Each ward chapter opens with a narrative circumnavigation of the ward—a verbal
beating of the bounds
that MoEML first transcribed in 2004 and later used to facilitate the drawing of approximate ward boundaries on our edition of the Agas map. Source:
John Stow,

A Survey of London

(London, 1603; STC #23343)
.
BRidgeward within
, ſo called of
London Bridge
, which
Bridge
is a principall part of that Ward, and beginneth at the ſtulpes on the South end by
Southwarke
, runneth along the
Bridge
, and North up
Bridgeſtreete
, commonly called (of the Fiſhmarket)
New Fiſhſtreete
, from
Fiſhſtreete hil
, up
Graſſe ſtreete
, to the North corner of
Graſſe church
, all the
Bridge
is repleniſhed on both the ſides with large, fayre and beautifull buildinges inhabitants for the moſt part rich marchantes, and other wealthy Cittizens, Mercers and Haberdaſhers.
Gap in transcription. Reason:

[…]
On that ſouth ſide of
Thames ſtreete
, haue ye
Drinkwater warfe
, and
Fiſh Wharfe
in the
pariſh of ſaint Magnus
. On the North ſide of
Thames ſtreete
is
Saint Martins lane
, a part of which lane is alſo of this ward, to wit, on the one ſide to a well of water, and on the other ſide as farre up as againſt the ſaid well. Then is
Saint Michaels lane
, part whereof is alſo of this warde up to a Well there, &c. Then at the upper end of
new fiſhſtréete
, is a lane turning towards
S, Michaels lane
, and is called
Crooked lane
, of the croked windings thereof. Aboue this lanes end, upon
Fiſhſtreet hill
is one great houſe, for the moſt part builded of ſtone which pertained ſometime to
Ed.the black prince
, ſon to
Ed. the 3.
who was in his life time lodged there. It is now altered to a common hoſterie, hauing the blacke bell for a ſigne: Aboue this houſe at the top of
Fiſhſtréet hil
is a turning into great
Eaſtcheape
, and ſo to the corner of
Lombardſtreet
, ouer againſt the northweſt corner of
Graſſe church
, & theſe be the whole bounds of this
Bridgeward within
[.]
¶Note on Ward boundaries on Agas Map
Ward boundaries drawn on the Agas map are approximate. The Agas map does not lend itself well to georeferencing or georectification, which means that we have not been able to import the raster-based or vector-based shapes that have been generously offered to us by other projects. We have therefore used our drawing tools to draw polygons on the map surface that follow the lines traced verbally in the opening paragraph(s) of each ward chapter in the
Survey
.
Read more about the cartographic genres of the Agas map
.
References
Citation

Stow, John

.

A suruay of London· Conteyning the originall, antiquity, increase, moderne estate, and description of that city, written in the yeare 1598. by Iohn Stow citizen of London. Since by the same author increased, with diuers rare notes of antiquity, and published in the yeare, 1603. Also an apologie (or defence) against the opinion of some men, concerning that citie, the greatnesse thereof. VVith an appendix, contayning in Latine Libellum de situ & nobilitate Londini: written by William Fitzstephen, in the raigne of Henry the second

. London: John Windet,

1603

. STC 23343. U of Illinois (Urbana-Champaign Campus) copy.

This item is cited in the following documents:

Citation

This item is cited in the following documents:

Citation

This item is cited in the following documents:
Cite this page
RIS file (for RefMan, RefWorks, EndNote etc.)
Provider: University of Victoria
Database: The Map of Early Modern London
Content: text/plain; charset="utf-8"

TY  - ELEC
A1  - Zabel, Jamie
ED  - Jenstad, Janelle
T1  - Bridge Within Ward
T2  - The Map of Early Modern London
ET  - 7.0
PY  - 2022
DA  - 2022/05/05
CY  - Victoria
PB  - University of Victoria
LA  - English
UR  - https://mapoflondon.uvic.ca/edition/7.0/BRID3.htm
UR  - https://mapoflondon.uvic.ca/edition/7.0/xml/standalone/BRID3.xml
ER  - 
TEI citation
<bibl type="mla"><author><name ref="#ZABE1"><surname>Zabel</surname>, <forename>Jamie</forename></name></author>. <title level="a">Bridge Within Ward</title>. <title level="m">The Map of Early Modern London</title>, Edition <edition>7.0</edition>, edited by <editor><name ref="#JENS1"><forename>Janelle</forename> <surname>Jenstad</surname></name></editor>, <publisher>U of Victoria</publisher>, <date when="2022-05-05">05 May 2022</date>, <ref target="https://mapoflondon.uvic.ca/edition/7.0/BRID3.htm">mapoflondon.uvic.ca/edition/7.0/BRID3.htm</ref>.</bibl>
Locations
Billingsgate Ward is mentioned in the following documents:

As the only bridge in

London

crossing the

Thames

until

1729

,

London Bridge

was a focal point of the city. After its conversion from wood to stone, completed in

1209

, the bridge housed a variety of structures, including a chapel and a growing number of shops. The bridge was famous for the city's grisly practice of displaying traitors' heads on poles above its

gatehouses

. Despite burning down multiple times,

London Bridge

was one of the few structures not entirely destroyed by the

Great Fire of London

in

1666

.

London Bridge is mentioned in the following documents:

Bride Lane is mentioned in the following documents:

Southwark is mentioned in the following documents:

New Fish Street is mentioned in the following documents:

Gracechurch Street is mentioned in the following documents:

St. Benet Gracechurch is mentioned in the following documents:

Thames Street is mentioned in the following documents:

Drinkwater Wharf is mentioned in the following documents:

Fish Wharf is mentioned in the following documents:

Parish of St. Magnus is mentioned in the following documents:

St. Martin's Lane (Bridge Within Ward) is mentioned in the following documents:

St. Michael's Lane is mentioned in the following documents:

Crooked Lane is mentioned in the following documents:

Eastcheap is mentioned in the following documents:

Lombard Street is mentioned in the following documents:
Variant spellings
Documents using the spelling Bridge (within) Ward

Documents using the spelling BRIDGE VVARD VVithin

Documents using the spelling Bridge ward

Documents using the spelling Bridge Ward

Documents using the spelling Bridge Ward within

Documents using the spelling BRidge Ward within

Documents using the spelling Bridge ward within

Documents using the spelling Bridge Ward Within

Documents using the spelling Bridge warde

Documents using the spelling Bridge warde within

Documents using the spelling Bridge Within Ward

Documents using the spelling BRidgeward within

Documents using the spelling Bridgeward within

Documents using the spelling Bridgewarde within

Documents using the spelling BRidgewarde within