Bankside
The
Bankside
district of the
Southwark
borough of Greater
London
is situated on the south bank of the
Thames River
between
Blackfriars
and
London Bridge
. Described as one of
England
's oldest settlements, the district's earliest distinction was as a strategic military base. However, by the early modern period,
Bankside
lost its relevance as a military site and instead gained notoriety for its theatres, brothels, and other types of entertainment enjoyed by both the common and nobility classes (
Brandon and Brooke
).
Bankside
's military value prior to the sixteenth century is attributed to its strategic location across the
Thames River
from what was to become the city of
London
. In approximately
50
A.D., during the reign of
Emperor Claudius
, Roman soldiers built a bridge across the river. This bridge was situated about fifty yards east of the present
London Bridge
, and the southern entrance became known as
Southwark
(
Brandon and Brooke
). Rebel forces frequently occupied the area in succeeding centuries.
William I
, for example, destroyed
Southwark
in
1066
, and barons rebelling against
Henry III
occupied
Southwark
in
1264
(
Brandon and Brooke
). The rebel
Jack Cade
, whose militia of armed commoners challenged the British medieval warrior elite, camped in
Southwark
in
1450
while leading a tax revolt (
Bohna 364, 571
).
By the sixteenth century,
Southwark
, and in particular the area of
Bankside
, was known for entertainments rather than for battlements. These entertainments
included bear-baiting [and] brothels
(
Mills
). In his
Poems with the Muses
(
1638
), for example, Elizabethan poet
Thomas Randolph
says he will
send for a whole coach or two of

Bankside

Ladies, and wee will be Ioviall !
(
Randolph 47
). The area's bawdy reputation made it fertile ground for the growth of public theatres which
stood cheek-by-jowl
with the brothels (
Weis 129
).
Philip Henslowe
, who owned a
Bankside
brothel named
Little Rose,
also owned the
Rose Theatre
, built in
1587
(
Weis 236
).
Perhaps the most famous
Bankside
theatre is the
Globe
, built in
1598-1599
. The
Globe
was the primary home of
Shakespeare
's acting company, and where many of his plays premiered.
John Stow
reports the destruction of the
Globe
by fire in
1613
:
and vpon Saint Peters day1 the Globe on the

banckside

was burned
(
Stow sig. 2M3v
). The
Globe
was then rebuilt
with the same groundplan, and hence the same size and shape, as the first
(
Egan 1
). River taxis transported theatregoers from the north side of the river to
Bankside
theatres, which could hold up to 10,000 guests (
Weis 252
). Remains of both the
Rose
and the
Globe
theatres were excavated in 1989, and both theatres were reconstructed in the 1990s (
Egan 2
). They continue to host performances today.
In addition to the patrons from across the
Thames
,
Southwark
citizens, including at least one prisoner, also enjoyed the
Bankside
theatres. The
Clink
, a
Bankside
prison
built on to the western side of the palace of the Bishop of Winchester
in the twelfth century, was known to have lax security. Weis says
[t]here is even a record of one Catholic priest, Father Thomas Leak, frequenting the

Bankside

theaters on day release while serving his sentence
(
Weis 236
). The
Clink
housed prisoners until 1780 when it was burned to the ground by rioters on the day Lord George Gordon presented a petition to repeal the Catholic Relief Act in
London
(
Haydon
).
Bankside
is mentioned in a variety of genres of early modern English literature. In
Ben Jonson
's comedy,
Bartholmew Faire
(
1631
), for example,
Bartholomew Cokes
reads aloud a playbill describing
[t]he ancient moderne history of Hero, and Leander, otherwise called

The Touchstone of true Loue

, with as true a tryall of friendship, betweene Damon, and Pithias, two faithfull friends o'the

Bankside

?
(
Jonson sig. L1r
). In
James Shirley
's play,
The doubtful heir
(
1652
), the prologue offers this disclaimer:
ALl that the Prologue comes for, is to say, / Our Author did not calculate this Play / For this Meridian; the

Banckside

, he knows, / Are far more skilfull at the Ebbes and flows / Of water, than of wit, he did not mean / For the elevation of your poles, this scene
(
Shirley sig. A3r
).
John Taylor's last voyage
(
1641
) mentions
Bankside
in his journal entry for July 20:
I with my two men and a brace of boyes were embarqued with a Scullers boate first from London, and within halfe a quarter of an houre after, I past from my house neare the Beares Colledge on the

Banckside

, I tooke leave of some friends, and had a flagge advanced as a token of my publike departure; but some enemies gave out that I was Runne away, who I doe know (since my returne,) to be a crew of malicious Vermin (Taylor sig. A6v)
In the
Faires in England
entry of
The Owles almanacke
(
1618
), the author predicts
A Fare on the

Bankside

when the play-houses haue two penny tenants dwelling in them
(
Dekker
). These are a few of many references to
Bankside
in both fiction and non-fiction texts of the early modern period.
Bankside
's historical identity as a center of entertainment continues to the present day, and it is known now for visual arts as well as stage plays. In 2000, the Tate Gallery of Modern Art,
England
's
first national museum dedicated solely to modern art,
opened in a refurbished, decommissioned
Bankside
power station near the reconstructed
Globe Theatre
(
Vaizey 53
). Though Vaizey described the museum as
an ambiguous symbol for a millennial Britain about to embrace the future,
she says
Bankside
may be
London
's
new Left Bank (on the right)
(
Vaizey 53
).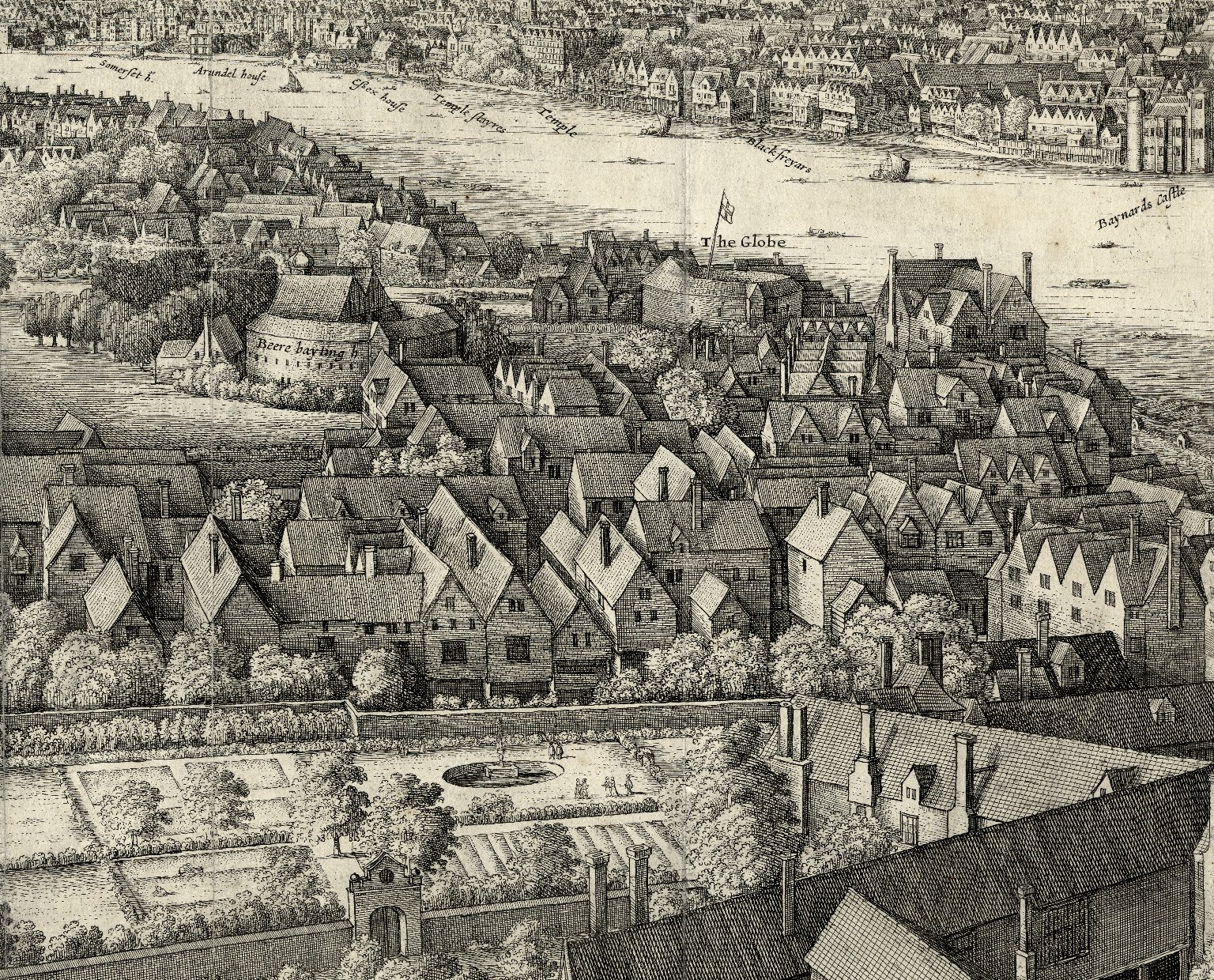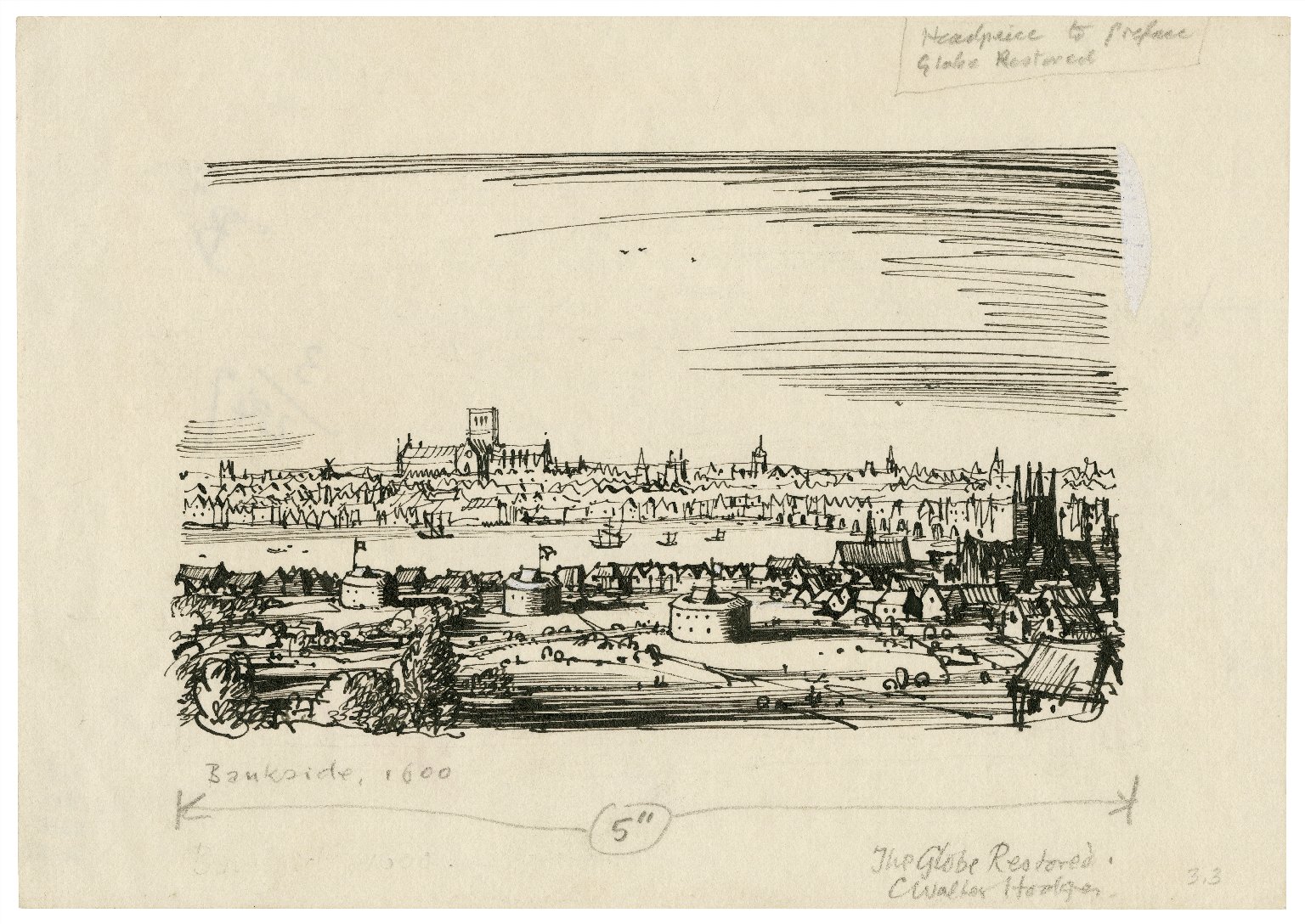 References
Citation

Bohna, Montgomery

.

Armed Force and Civic Legitimacy in Jack Cade's Revolt, 1450.

The English Historical Review

118.477, 2003. 563-582.

Citation

Brandon, David

, and

Alan Brooke

.

Bankside: London's Original District of Sin

. Amberley Publishing Ltd., 2012. Remediated by Google Books.

Citation

Dekker, Thomas

.

The owles almanacke Prognosticating many strange accidents which shall happen to this kingdome of Great Britaine this yeare, 1618. Calculated as well for the meridian mirth of London as any other part of Great Britaine. Found in an iuy-bush written in old characters, and now published in English by the painefull labours of Mr. Iocundary Merrie-braines

. London: E[dward] G[riffin] for Laurence Lisle,

1618

. STC 6515.

This item is cited in the following documents:

Citation

Egan, Gabriel

.

The 1599 Globe and its Modern Replica: Virtual Reality Modelling of the Archaeological and Pictorial Evidence.

Early Modern Literary Studies

13, April 2004. 5.1-22.

Citation

Haydon, Colin

.

Gordon, Lord George (1751–1793).

Oxford Dictionary of National Biography

. Ed.

H.C.G. Matthew

,

Brian Harrison

,

Lawrence Goldman

, and

David Cannadine

. Oxford: Oxford UP, 2004. doi:10.1093/ref:odnb/11040.

Citation

Jonson, Ben

.

The vvorkes of Beniamin Ionson. Containing these playes, viz. 1 Bartholomew Fayre. 2 The staple of newes. 3 The Divell is an asse

. London,

1641

. STC 14754.

This item is cited in the following documents:

Citation

Mills, A.D.

Oxford Dictionary of London Place Names

. Oxford: Oxford UP, 2001. Remediated by Oxford Reference.

This item is cited in the following documents:

Citation

Randolph, Thomas

.

Poems with the Muses looking-glasse: and Amyntas

. Leonard Lichfield for Francis Bowman,

1638

. STC 20694.

Citation

Stow, John

.

The abridgement of the English Chronicle, first collected by M. Iohn Stow, and after him augmented with very many memorable antiquities, and continued with matters forreine and domesticall, vnto the beginning of the yeare, 1618. by E.H. Gentleman

. London,

Edward Allde

and

Nicholas Okes

,

1618

. STC 23332.

Citation

Vaizey, Marina

.

Do We Really Need the New Tate?

New Statesman

125.4303,1996. 53.

Citation

Weinreb, Ben

, and

Christopher Hibbert

, eds.

The London Encyclopaedia

. New York: St. Martin's P, 1983. Print. [You may also wish to consult the

3rd edition

, published in 2008.]

This item is cited in the following documents:

Citation

Weis, Rene

.

Shakespeare Unbound: Decoding a Hidden Life

. New York: Henry Holt and Company, 2007. Remediated by Google Books.
Cite this page
RIS file (for RefMan, RefWorks, EndNote etc.)
Provider: University of Victoria
Database: The Map of Early Modern London
Content: text/plain; charset="utf-8"

TY  - ELEC
A1  - Jackson, Jana
ED  - Jenstad, Janelle
T1  - Bankside
T2  - The Map of Early Modern London
ET  - 7.0
PY  - 2022
DA  - 2022/05/05
CY  - Victoria
PB  - University of Victoria
LA  - English
UR  - https://mapoflondon.uvic.ca/edition/7.0/BANK2.htm
UR  - https://mapoflondon.uvic.ca/edition/7.0/xml/standalone/BANK2.xml
ER  - 
TEI citation
<bibl type="mla"><author><name ref="#JACK5"><surname>Jackson</surname>, <forename>Jana</forename></name></author>. <title level="a">Bankside</title>. <title level="m">The Map of Early Modern London</title>, Edition <edition>7.0</edition>, edited by <editor><name ref="#JENS1"><forename>Janelle</forename> <surname>Jenstad</surname></name></editor>, <publisher>U of Victoria</publisher>, <date when="2022-05-05">05 May 2022</date>, <ref target="https://mapoflondon.uvic.ca/edition/7.0/BANK2.htm">mapoflondon.uvic.ca/edition/7.0/BANK2.htm</ref>.</bibl>
Personography
MR

Project Manager, 2022-present. Research Assistant, 2020-2022. Molly Rothwell was an undergraduate student at the University of Victoria, with a double major in English and History. During her time at MoEML, Molly primarily worked on encoding and transcribing the 1598 and 1633 editions of Stow's

Survey

, adding toponyms to MoEML's Gazetteer, researching England's early-modern court system, and standardizing MoEML's Mapography.

LS

Research Assistant, 2018-2021. Lucas Simpson was a student at the University of Victoria.

KL

Project Manager, 2020-2021. Assistant Project Manager, 2019-2020. Research Assistant, 2018-2020. Kate LeBere completed her BA (Hons.) in History and English at the University of Victoria in 2020. She published papers in

The Corvette

(2018),

The Albatross

(2019), and

PLVS VLTRA

(2020) and presented at the English Undergraduate Conference (2019), Qualicum History Conference (2020), and the Digital Humanities Summer Institute's Project Management in the Humanities Conference (2021). While her primary research focus was sixteenth and seventeenth century England, she completed her honours thesis on Soviet ballet during the Russian Cultural Revolution. During her time at MoEML, Kate made significant contributions to the 1598 and 1633 editions of Stow's

Survey of London

, old-spelling anthology of mayoral shows, and old-spelling library texts. She authored the MoEML's first Project Management Manual and

quickstart

guidelines for new employees and helped standardize the Personography and Bibliography. She is currently a student at the University of British Columbia's iSchool, working on her masters in library and information science.

JT

Programmer, 2018-present. Junior Programmer, 2015-2017. Research Assistant, 2014-2017. Joey Takeda was a graduate student at the University of British Columbia in the Department of English (Science and Technology research stream). He completed his BA honours in English (with a minor in Women's Studies) at the University of Victoria in 2016. His primary research interests included diasporic and indigenous Canadian and American literature, critical theory, cultural studies, and the digital humanities.

TLG

Data Manager, 2015-2016. Research Assistant, 2013-2015. Tye completed his undergraduate honours degree in English at the University of Victoria in 2015.

KMF

Director of Pedagogy and Outreach, 2015–2020. Associate Project Director, 2015. Assistant Project Director, 2013-2014. MoEML Research Fellow, 2013. Kim McLean-Fiander comes to

The Map of Early Modern London

from the

Cultures of Knowledge

digital humanities project at the

University of Oxford

, where she was the editor of

Early Modern Letters Online

, an open-access union catalogue and editorial interface for correspondence from the sixteenth to eighteenth centuries. She is currently Co-Director of a sister project to

EMLO

called

Women's Early Modern Letters Online

(

WEMLO

). In the past, she held an internship with the curator of manuscripts at the

Folger Shakespeare Library

, completed a doctorate at

Oxford

on paratext and early modern women writers, and worked a number of years for the

Bodleian Libraries

and as a freelance editor. She has a passion for rare books and manuscripts as social and material artifacts, and is interested in the development of digital resources that will improve access to these materials while ensuring their ongoing preservation and conservation. An avid traveler, Kim has always loved both London and maps, and so is particularly delighted to be able to bring her early modern scholarly expertise to bear on the MoEML project.

JJ

Janelle Jenstad is Associate Professor of English at the University of Victoria, Director of

The Map of Early Modern London

, and PI of

Linked Early Modern Drama Online

. She has taught at Queen's University, the Summer Academy at the Stratford Festival, the University of Windsor, and the University of Victoria. With Jennifer Roberts-Smith and Mark Kaethler, she co-edited

Shakespeare's Language in Digital Media

(

Routledge

). She has prepared a documentary edition of John Stow's

A Survey of London

(1598 text) for MoEML and is currently editing

The Merchant of Venice

(with Stephen Wittek) and Heywood's

2 If You Know Not Me You Know Nobody

for DRE. Her articles have appeared in

Digital Humanities Quarterly

,

Renaissance and Reformation

,

Journal of Medieval and Early Modern Studies

,

Early Modern Literary Studies

,

Elizabethan Theatre

,

Shakespeare Bulletin: A Journal of Performance Criticism

, and

The Silver Society Journal

. Her book chapters have appeared (or will appear) in

Institutional Culture in Early Modern Society

(Brill, 2004),

Shakespeare, Language and the Stage, The Fifth Wall: Approaches to Shakespeare from Criticism, Performance and Theatre Studies

(Arden/Thomson Learning, 2005),

Approaches to Teaching Othello

(Modern Language Association, 2005),

Performing Maternity in Early Modern England

(Ashgate, 2007),

New Directions in the Geohumanities: Art, Text, and History at the Edge of Place

(Routledge, 2011), Early Modern Studies and the Digital Turn (Iter, 2016),

Teaching Early Modern English Literature from the Archives

(MLA, 2015),

Placing Names: Enriching and Integrating Gazetteers

(Indiana, 2016),

Making Things and Drawing Boundaries

(Minnesota, 2017), and

Rethinking Shakespeare's Source Study: Audiences, Authors, and Digital Technologies

(Routledge, 2018).

MDH

Programmer at the University of Victoria Humanities Computing and Media Centre (HCMC). Martin ported the MOL project from its original PHP incarnation to a pure eXist database implementation in the fall of 2011. Since then, he has been lead programmer on the project and has also been responsible for maintaining the project schemas. He was a co-applicant on MoEML's 2012 SSHRC Insight Grant.

Amy Tigner is a MoEML Pedagogical Partner. She is Associate Professor of English at the

University of Texas, Arlington

, and the Editor-in-Chief of

Early Modern Studies Journal

. She is the author of

Literature and the Renaissance Garden from Elizabeth I to Charles II: England's Paradise

(Ashgate, 2012) and has published in

ELR

,

Modern Drama

,

Milton Quarterly

, Drama Criticism,

Gastronomica

and

Early Theatre

. Currently, she is working on two book projects: co-editing, with David Goldstein,

Culinary Shakespeare

, and co-authoring, with Allison Carruth,

Literature and Food Studies

.

Roles played in the project

Amy Tigner is mentioned in the following documents:

JJ

Student contributor enrolled in

English 5308: Shakespeare and Early Modern Urban/Rural Nature

at the University of Texas, Arlington in Fall 2014, working under the guest editorship of

Amy Tigner

.

Jack Cade is mentioned in the following documents:

Henry

This numeral is a Roman numeral. The Arabic equivalent is 3

III King of England

(b.

1 October 1207

, d.

16 November 1272

)

Philip Henslowe is mentioned in the following documents:

Bohemian etcher. Moved to

London

in

1637

and etched a number of buildings and plans of the city.

Wenceslaus Hollar is mentioned in the following documents:

Wenceslaus Hollar authored or edited the following items in MoEML's bibliography:

Ben Jonson is mentioned in the following documents:

Ben Jonson authored or edited the following items in MoEML's bibliography:

Leander is mentioned in the following documents:

Hero is mentioned in the following documents:

Dramatic character in

Ben Jonson

's

Bartholomew Fair

.

Bartholomew Cokes is mentioned in the following documents:

William Shakespeare is mentioned in the following documents:

William Shakespeare authored or edited the following items in MoEML's bibliography:

(b.

between 1524 and 1525

, d.

1605

)

Historian and author of

A Survey of London

. Husband of

Elizabeth Stow

.

John Stow is mentioned in the following documents:

John Stow authored or edited the following items in MoEML's bibliography:

William

This numeral is a Roman numeral. The Arabic equivalent is 1

I King of England the Conqueror

(b.

between 1027 and 1028

, d.

1087

)

James Shirley is mentioned in the following documents:

James Shirley authored or edited the following items in MoEML's bibliography:

Claudius Emperor Tiberius Claudius Caesar Augustus Germanicus

(b.

10 BCE

, d.

13 October 54

)

Emperor of the Roman Empire

41-54

. Father of

Brtiannicus

.

Claudius is mentioned in the following documents:

Central figure of the Damon and Pythias legend in Greek mythology.

Damon is mentioned in the following documents:

Central figure of the Damon and Pythias legend in Greek mythology.

Pythias is mentioned in the following documents:

Thomas Randolph is mentioned in the following documents:

Thomas Randolph authored or edited the following items in MoEML's bibliography:

Randolph, Thomas

.

Poems with the Muses looking-glasse: and Amyntas

. Leonard Lichfield for Francis Bowman,

1638

. STC 20694.

Thomas Leak is mentioned in the following documents:
Locations
London is mentioned in the following documents:

Southwark is mentioned in the following documents:

Perhaps more than any other geophysical feature, the

Thames river

has directly affected

London

's growth and rise to prominence; historically, the city's economic, political, and military importance was dependent on its riverine location. As a tidal river, connected to the North Sea, the

Thames

allowed for transportation to and from the outside world; and, as the longest river in

England

, bordering on nine counties, it linked

London

to the country's interior. Indeed, without the

Thames

,

London

would not exist as one of Europe's most influential cities. The

Thames

, however, is notable for its dichotomous nature: it is both a natural phenomenon and a cultural construct; it lives in geological time but has been the measure of human history; and the city was built around the river, but the river has been reshaped by the city and its inhabitants.

The Thames is mentioned in the following documents:

The history of the two

Blackfriars

theatres is long and fraught with legal and political struggles. The story begins in

1276

, when

King Edward I

gave to the Dominican order five acres of land.

Blackfriars Theatre is mentioned in the following documents:

As the only bridge in

London

crossing the

Thames

until

1729

,

London Bridge

was a focal point of the city. After its conversion from wood to stone, completed in

1209

, the bridge housed a variety of structures, including a chapel and a growing number of shops. The bridge was famous for the city's grisly practice of displaying traitors' heads on poles above its

gatehouses

. Despite burning down multiple times,

London Bridge

was one of the few structures not entirely destroyed by the

Great Fire of London

in

1666

.

London Bridge is mentioned in the following documents:

PLACEHOLDER LOCATION ITEM. The purpose of this item is to allow encoders to link to a location item when they cannot add a new location file for some reason. MoEML may still be seeking information regarding this entry. If you have information to contribute, please

contact the MoEML team

.

PLACEHOLDER LOCATION is mentioned in the following documents:

Built in

1587

by theatre financier

Philip Henslowe

, the

Rose

was

Bankside

's first open-air amphitheatre playhouse (

Egan

). Its foundation, excavated in 1989, reveals a fourteen-sided structure about 22 metres in diameter, making it smaller than other contemporary playhouses (

White 302

). Relatively free of civic interference and surrounded by pleasure-seeking crowds, the

Rose

did very well, staging works by such playwrights as

Shakespeare

,

Marlowe

,

Kyd

, and

Dekker

(

Egan

).

The Rose is mentioned in the following documents:

The

Globe

was the open-air, public theatre in which

William Shakespeare

was a shareholder. It was one of the theatres at which the

Lord Chamberlain's Men

, later the

King's Men

, regularly performed. Most of

Shakespeare

's plays were performed at the

Globe

, along with the works of many other playwrights. It was an open-air, polygonal theatre with standing room around a thrust stage and three levels of gallery seating. It was built in

1599

, burnt down in

1613

, rebuilt in

1614

and closed in

1642

. A modern reconstruction now stands a short distance from the site of the original in

Bankside

.

The Globe is mentioned in the following documents:

Clink Prison is mentioned in the following documents:

Winchester House is mentioned in the following documents:

The

Bear Garden

was never a garden, but rather a polygonal bearbaiting arena whose exact locations across time are not known (

Mackinder and Blatherwick 18

). Labelled on the Agas map as

The Bearebayting,

the

Bear Garden

would have been one of several permanent structures—wooden arenas, dog kennels, bear pens—dedicated to the popular spectacle of bearbaiting in the sixteenth and seventeenth centuries.

Bear Garden is mentioned in the following documents:
Variant spellings
Documents using the spelling banck-side

Documents using the spelling Bancke-side

Documents using the spelling banckside

Documents using the spelling Banckside

Documents using the spelling Bank-side

Documents using the spelling banke-side

Documents using the spelling Banke-side

Documents using the spelling Bankeside

Documents using the spelling Bankside

Documents using the spelling Weſt banke