Paint over Print Conference
Links to Videos of the Talks
¶MoEML Note
When notice of the
Paint over Print
symposium came over the electronic transom a few months ago, MoEML was eager to publicize the news via our social media channels. MoEML users tend to like maps, and MoEML builders could be said to be
colouring on our map using digital brushes
. What could be better than an entire symposium devoted to the topic of hand-coloured early modern maps? Unique, priceless treasures like these are beautiful in their own right but also bear witness to
readerly
interaction with these highly rhetorical cartographic texts.
¶Conference Information
Paint over Print: Hand-Colored Books and Maps of the Early Modern Period
took place on 19 and 20 February, 2015, at the University of Pennsylvania. The conference brought together scholars to consider different aspects of hand-colored books and printed maps from the fifteenth to the seventeenth centuries: the materials and techniques used; the aesthetics of hand coloring; how color alters the meaning of the work in question; and how the addition of color represents an interpretation or reinterpretation of the work.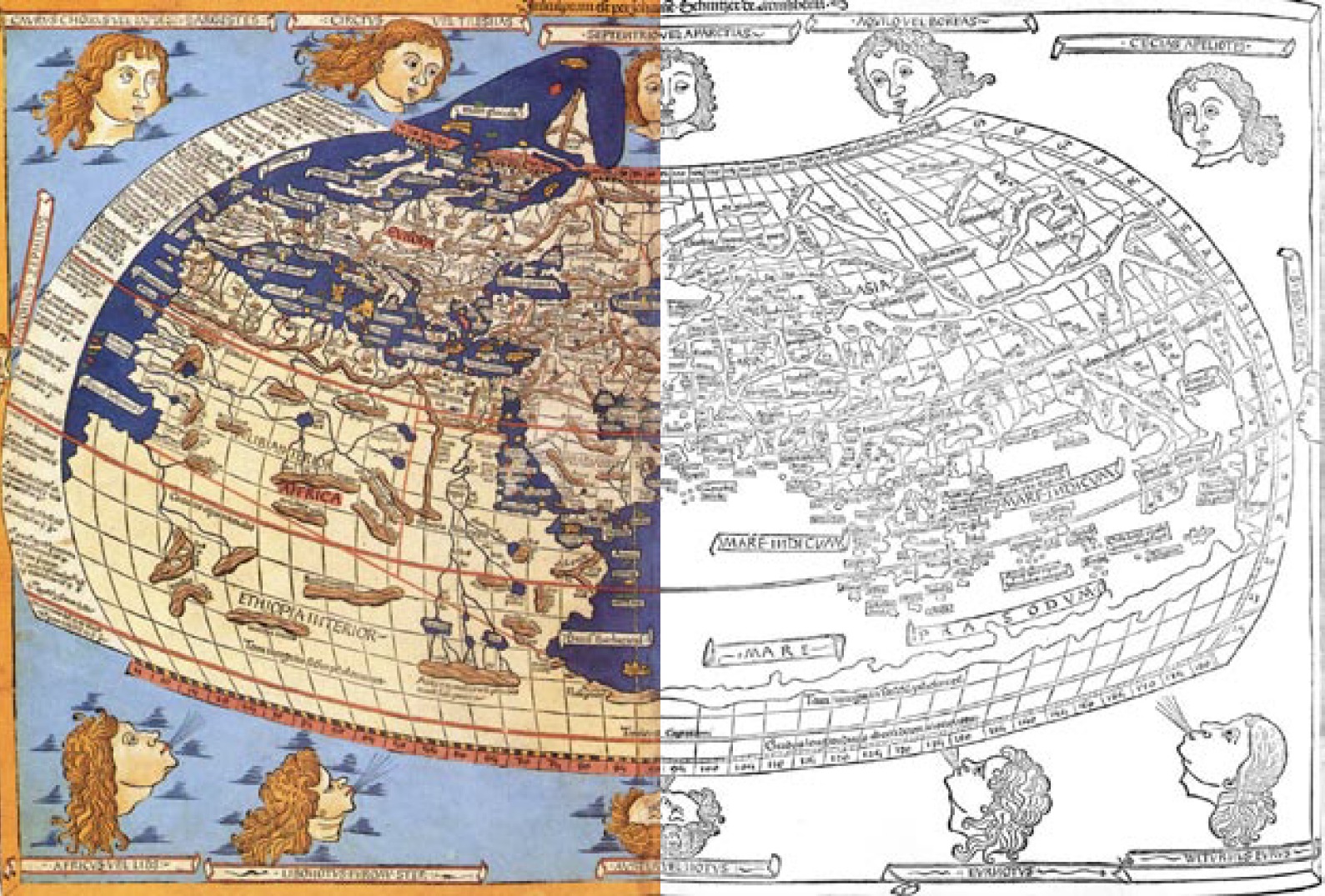 Paint over Print was organized by Chet Van Duzer, Independent Scholar, and Larry E. Tise, East Carolina University. The conference was sponsored by the Kislak Center for Special Collections, Rare Books, and Manuscripts, University of Pennsylvania Libraries; the McNeil Center for Early American Studies, University of Pennsylvania; the Workshop in the History of Material Texts, University of Pennsylvania; and the Conservation Center for Historic Art & Artifacts, Philadelphia, PA.
Conference Organizers
Chet Van Duzer
and Larry E. Tise have very generously allowed MoEML to embed the high-quality YouTube video recordings from the conference into this post. Scroll down to enjoy the talks and slides. We've departed from MoEML house style for this blog post and tried to mimic the style of the
Paint over Print
conference materials.
Links to videos

of the talks presented at

Hand-Colored Books and Maps

of the Early Modern Period

19-20 February, 2015

Kislak Center, Van Pelt-Dietrich Library,

University of Pennsylvania

Organizers:

Larry E. Tise, Philadelphia, PA

Chet Van Duzer, Los Altos Hills, CA

¶February 20

¶Michiel van Groesen

University of Amsterdam

Theodor de Bry and Sons, Master Engravers and Printers for the Hand-Colored Book Market

¶Larry Tise

East Carolina University

America's First Coloring Book: Theodor de Bry's 1590 edition of Thomas Harriot's

Briefe & True Report from the New-Found Land of Virginia

.

¶Joan Irving

Paper Conservator, Winterthur Museum, Garden, and Library, Wilmington, Delaware

Not Just for Ornament: Transparent Liquid Colors for Maps & Plans

¶Peter Stallybrass, University of Pennsylvania

Hand-Colored Herbals
Cite this page
RIS file (for RefMan, RefWorks, EndNote etc.)
Provider: University of Victoria
Database: The Map of Early Modern London
Content: text/plain; charset="utf-8"

TY  - ELEC
A1  - Jenstad, Janelle
ED  - Jenstad, Janelle
T1  - Paint over Print Conference
T2  - The Map of Early Modern London
ET  - 7.0
PY  - 2022
DA  - 2022/05/05
CY  - Victoria
PB  - University of Victoria
LA  - English
UR  - https://mapoflondon.uvic.ca/edition/7.0/BLOG12.htm
UR  - https://mapoflondon.uvic.ca/edition/7.0/xml/standalone/BLOG12.xml
ER  - 
TEI citation
<bibl type="mla"><author><name ref="#JENS1"><surname>Jenstad</surname>, <forename>Janelle</forename></name></author>. <title level="a">Paint over Print Conference</title>. <title level="m">The Map of Early Modern London</title>, Edition <edition>7.0</edition>, edited by <editor><name ref="#JENS1"><forename>Janelle</forename> <surname>Jenstad</surname></name></editor>, <publisher>U of Victoria</publisher>, <date when="2022-05-05">05 May 2022</date>, <ref target="https://mapoflondon.uvic.ca/edition/7.0/BLOG12.htm">mapoflondon.uvic.ca/edition/7.0/BLOG12.htm</ref>.</bibl>