St. Paul's Cross
¶Etymology
The name
Paul's Cross
is drawn from the name of the cathedral precinct it is located in. The
cross
as a name for an outdoor pulpit would signal the
Cross of Christ
and also a place of crossing. A crossing carries the meaning of an actual ambulatory crossing, and of course the idea of crossing holds the metaphorical concept of crossing from this life to the next in Christian and classical thought.
¶Significance
During the early modern period the
Paul's Cross
pulpit was the site of fiery sermons and controversial public proclamations. Because of the
Paul's Cross
's location in the northeast churchyard next to the great cathedral church of
London
, it became the most influential cathedral cross in
England
. During the Elizabethan period,
Paul's Cross
stood as a center, arguably the exact center, for religious public broadcasting in the City of
London
. The unsettling sermons of reform preached from that site helped to forge the unsteady religious alliances that we now call the Elizabethan settlement. In his introduction to
Paul's Cross and the Culture of Persuasion in England, 1520-1640
, Torrance Kirby asserts that
Paul's Cross
can be reckoned among the most influential of all public venues in early modern period
(
Kirby 1
). In
Politics and the Paul's Cross Sermons, 1558-1642
, Mary Morrissey holds that, in the sixteenth century, the
Paul's Cross
was
second only to the court pulpits in its potential to influence ecclesiastical policy,
and that it
surpassed the court pulpits in its capacity to reach a wide, non-elite audience
(
Morrissey 2
). Morrissey's observation is strongly supported by recent reconstructions of the pulpit and churchyard at the
Virtual Paul's Cross Project
. The VPCP team has produced images and auditory of this location that vividly demonstrate its suitability for large and sometimes unruly public gatherings, both in terms of space and in terms of the aural advantages of its position in the L-shaped area between the cathedral choir and north transept (
Virtual Paul's Cross Project
).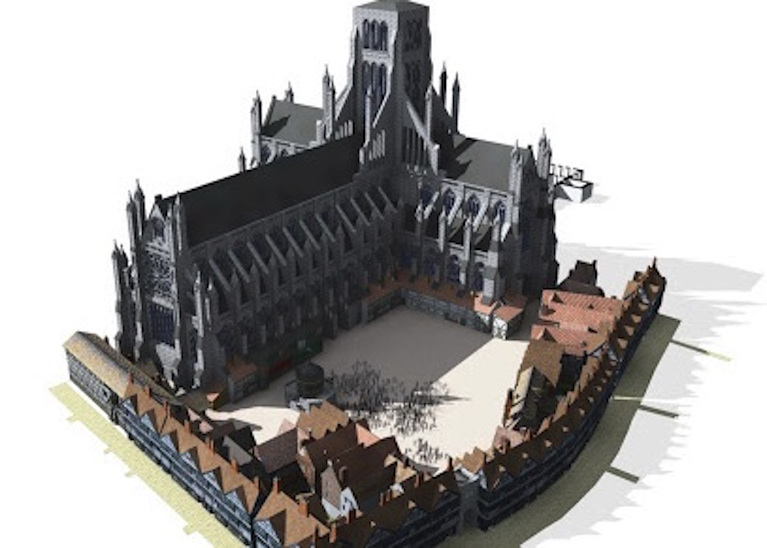 References
Citation

Beresford, E. St. Paul's Cathedral.

Enyclopedia Britannica

, 1925. Print.

Citation

Foxe, John

.

Actes and monuments of matters most speciall and memorable, happenyng in the Church with an vniuersall history of the same, wherein is set forth at large the whole race and course of the Church, from the primitiue age to these latter tymes of ours, with the bloudy times, horrible troubles, and great persecutions agaynst the true martyrs of Christ, sought and wrought as well by heathen emperours, as nowe lately practised by Romish prelates, especially in this realme of England and Scotland. Newly reuised and recognised, partly also augmented, and now the fourth time agayne published and recommended to the studious reader, by the author (through the helpe of Christ our Lord) Iohn Foxe, which desireth thee good reader to helpe him with thy prayer

. London: Iohn Daye,

1583

. 11225.

This item is cited in the following documents:

Citation

Gurr, Andrew

.

Playgoing in Shakespeare's London

. 3rd ed. Cambridge: Cambridge UP, 2004. Print.

This item is cited in the following documents:

Citation

Keene, Derek

,

Arthur Burns

, and

Andrew Saint

, eds.

St Paul's: The Cathedral Church of London 604–2004

. London: Yale UP, 2004. Print.

Citation

Kirby, Torrance

.

Persuasion and Conversion: Essays on Religion, Politics, and the Public

. Leiden: Brill, 2013. Print.

Citation

Kirby, Torrance

and

P. G. Stanwood

, ed.

Paul's Cross and the Culture of Persuasion in England, 1520-1640

. Leiden: Brill, 2013. Print.

Citation

Latimer, Hugh

.

Burial of the Dead.

Select Sermons by Hugh Latimer

. Boston: Hilliard, Gray, and Company, 1832. Remediated by Google Books.

Citation

MacLure, Millar

.

The Paul's Cross Sermons: 1534-1642

. Toronto: U of Toronto P, 1958. Print.

Citation

Morrissey, Mary

.

Politics and the Paul's Cross Sermons

. Oxford: Oxford UP, 2011. Print.

Citation

Schofield, John

.

St. Paul's Cathedral Before Wren

. London: English Heritage, 2011. Print.

Citation

Simpson, W. Sparrow

.

Chapters in the History of Old S. Paul's

. London: Elliot Stock, 1881. Print.

Citation

This item is cited in the following documents:
Cite this page
RIS file (for RefMan, RefWorks, EndNote etc.)
Provider: University of Victoria
Database: The Map of Early Modern London
Content: text/plain; charset="utf-8"

TY  - ELEC
A1  - Dabbs, Thomas
ED  - Jenstad, Janelle
T1  - St. Paul's Cross
T2  - The Map of Early Modern London
ET  - 7.0
PY  - 2022
DA  - 2022/05/05
CY  - Victoria
PB  - University of Victoria
LA  - English
UR  - https://mapoflondon.uvic.ca/edition/7.0/STPA6.htm
UR  - https://mapoflondon.uvic.ca/edition/7.0/xml/standalone/STPA6.xml
ER  - 
TEI citation
<bibl type="mla"><author><name ref="#DABB2"><surname>Dabbs</surname>, <forename>Thomas</forename></name></author>. <title level="a">St. Paul's Cross</title> <title level="m">The Map of Early Modern London</title>, Edition <edition>7.0</edition>, edited by <editor><name ref="#JENS1"><forename>Janelle</forename> <surname>Jenstad</surname></name></editor>, <publisher>U of Victoria</publisher>, <date when="2022-05-05">05 May 2022</date>, <ref target="https://mapoflondon.uvic.ca/edition/7.0/STPA6.htm">mapoflondon.uvic.ca/edition/7.0/STPA6.htm</ref>.</bibl>
Locations
Paul's Cross Churchyard is mentioned in the following documents:

St. Paul's Cathedral

was—and remains—an important church in

London

. In

962

, while

London

was occupied by the Danes,

St. Paul's

monastery was burnt and raised anew. The church survived the Norman conquest of

1066

, but in

1087

it was burnt again. An ambitious Bishop named

Maurice

took the opportunity to build a new

St. Paul's

, even petitioning the king to offer a piece of land belonging to one of his castles (

Times 115

). The building

Maurice

initiated would become the cathedral of

St. Paul's

which survived until the

Great Fire of London

.

St. Paul's Cathedral is mentioned in the following documents:

Farringdon Within Ward is mentioned in the following documents:

London is mentioned in the following documents:

Ludgate is mentioned in the following documents:

Cheapside Street

, one of the most important streets in early modern

London

, ran east-west between the

Great Conduit

at the foot of

Old Jewry

to the

Little Conduit

by

St. Paul's churchyard

. The terminus of all the northbound streets from the river, the broad expanse of

Cheapside Street

separated the northern wards from the southern wards. It was lined with buildings three, four, and even five stories tall, whose shopfronts were open to the light and set out with attractive displays of luxury commodities (

Weinreb and Hibbert 148

).

Cheapside Street

was the centre of

London

's wealth, with many

mercers

' and

goldsmiths

' shops located there. It was also the most sacred stretch of the processional route, being traced both by the linear east-west route of a royal entry and by the circular route of the annual mayoral procession.

Cheapside Street is mentioned in the following documents:
Variant spellings
Documents using the spelling Paules croſſe

Documents using the spelling Paules Crosse

Documents using the spelling Pauls Crosse

Documents using the spelling Pauls Croſſe

Documents using the spelling Paul's Cross

Documents using the spelling Pulpit Crosse

Documents using the spelling Pulpit Croſſe

Documents using the spelling Pulpit-crosse

Documents using the spelling Pulpit-Crosse

Documents using the spelling Saint Pauls Croſſe.

Documents using the spelling St. Paul's Cross