Bridge Without Ward
¶Links to Chapters in the
Survey of London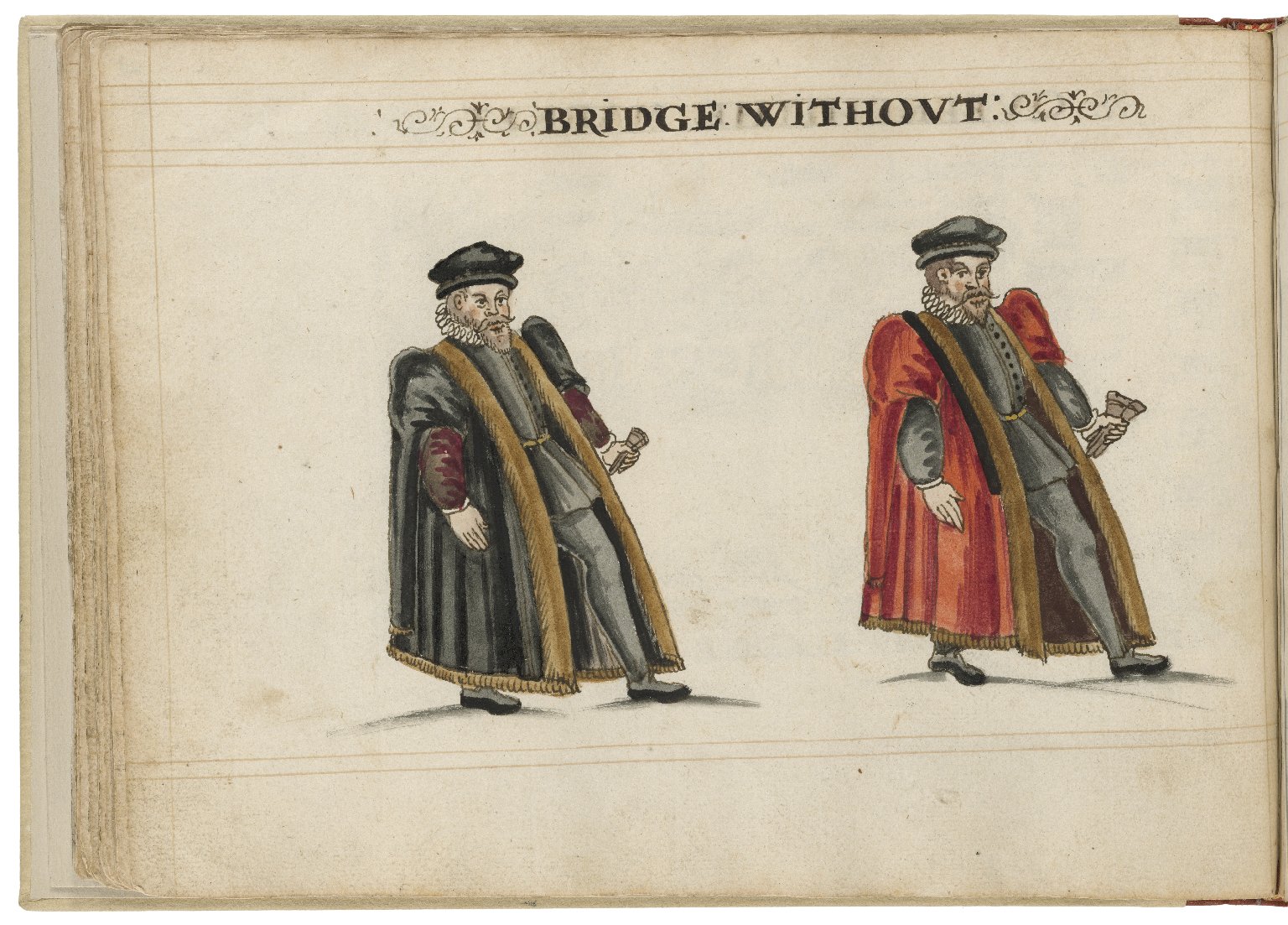 ¶1603 Description of Ward Boundaries
The following diplomatic transcription of the opening paragraph(s) of the 1603 chapter on this ward will eventually be subsumed into the MoEML edition of the 1603
Survey
.
1
Each ward chapter opens with a narrative circumnavigation of the ward—a verbal
beating of the bounds
that MoEML first transcribed in 2004 and later used to facilitate the drawing of approximate ward boundaries on our edition of the Agas map. Source:
John Stow,

A Survey of London

(London, 1603; STC #23343)
.
This Borough being in the County of Surrey, conſiſteth of diuers ſtreetes, wayes, and winding lanes, all full of buildings, inhabited: and firſt to begin at the WEſt part thereof, ouer againſt the weſt Suburbe of the Citie.
So that I account the whole continual buildings on the banke of the ſaid riuer, from the weſt towardes the eaſt to be more then a large mile in length.
¶Note on Ward boundaries on Agas Map
References
Citation

Stow, John

.

A suruay of London· Conteyning the originall, antiquity, increase, moderne estate, and description of that city, written in the yeare 1598. by Iohn Stow citizen of London. Since by the same author increased, with diuers rare notes of antiquity, and published in the yeare, 1603. Also an apologie (or defence) against the opinion of some men, concerning that citie, the greatnesse thereof. VVith an appendix, contayning in Latine Libellum de situ & nobilitate Londini: written by William Fitzstephen, in the raigne of Henry the second

. London: John Windet,

1603

. STC 23343. U of Illinois (Urbana-Champaign Campus) copy.

This item is cited in the following documents:

Citation

This item is cited in the following documents:

Citation

This item is cited in the following documents:
Cite this page
RIS file (for RefMan, RefWorks, EndNote etc.)
Provider: University of Victoria
Database: The Map of Early Modern London
Content: text/plain; charset="utf-8"

TY  - ELEC
A1  - Zabel, Jamie
ED  - Jenstad, Janelle
T1  - Bridge Without Ward
T2  - The Map of Early Modern London
ET  - 6.6
PY  - 2021
DA  - 2021/06/30
CY  - Victoria
PB  - University of Victoria
LA  - English
UR  - https://mapoflondon.uvic.ca/edition/6.6/BRID4.htm
UR  - https://mapoflondon.uvic.ca/edition/6.6/xml/standalone/BRID4.xml
ER  - 
TEI citation
<bibl type="mla"><author><name ref="#ZABE1"><surname>Zabel</surname>, <forename>Jamie</forename></name></author>. <title level="a">Bridge Without Ward</title>. <title level="m">The Map of Early Modern London</title>, Edition <edition>6.6</edition>, edited by <editor><name ref="#JENS1"><forename>Janelle</forename> <surname>Jenstad</surname></name></editor>, <publisher>U of Victoria</publisher>, <date when="2021-06-30">30 Jun. 2021</date>, <ref target="https://mapoflondon.uvic.ca/edition/6.6/BRID4.htm">mapoflondon.uvic.ca/edition/6.6/BRID4.htm</ref>.</bibl>
Locations
Originally built as a Roman fortification for the provincial city of

Londinium

in the second century C.E., the

London Wall

remained a material and spatial boundary for the city throughout the early modern period. Described by

Stow

as

high and great

(

Stow 1:8

), the

London Wall

dominated the cityscape and spatial imaginations of Londoners for centuries. Increasingly, the eighteen-foot high wall created a pressurized constraint on the growing city; the various gates functioned as relief valves where development spilled out to occupy spaces

outside the wall.

The Wall is mentioned in the following documents:

The Thames is mentioned in the following documents:

Bridge Within Ward is mentioned in the following documents:

As the only bridge in

London

crossing the

Thames

until

1729

,

London Bridge

was a focal point of the city. After its conversion from wood to stone, completed in

1209

, the bridge housed a variety of structures, including a chapel and a growing number of shops. The bridge was famous for the city's grisly practice of displaying traitors' heads on poles above its

gatehouses

. Despite burning down multiple times,

London Bridge

was one of the few structures not entirely destroyed by the

Great Fire of London

in

1666

.

London Bridge is mentioned in the following documents:

London is mentioned in the following documents:

Southwark is mentioned in the following documents:

Portsoken Ward is mentioned in the following documents:

Farringdon Without Ward is mentioned in the following documents:

Long Southwark is mentioned in the following documents:

St. George is mentioned in the following documents:

Blackman Street is mentioned in the following documents:

St. Mary (Newington) (Parish) is mentioned in the following documents:

St. Mary (Newington) is mentioned in the following documents:

Lambeth

was a neighbourhood located on the southern bank of the

Thames

, directly opposite to

Westminster

(

Lysons

). Jeremy Boulton notes that

Lambeth

lay outside the

Corporation of London

's jurisdiction and was instead controlled by Surrey authorities (

Boulton 9

). While the Agas map labels the area near

Lambeth

's coordinates as

The lambeht,

it is unclear if this label is referring to a singular building or the area in general. For a more detailed look at

Lambeth

, see

Richard Blome

's

1720

map (

Blome

).

Lambeth is mentioned in the following documents:

St. Olave Street is mentioned in the following documents:

Battle Bridge (Tooley Street) is mentioned in the following documents:

Horsleydown is mentioned in the following documents:

Rotherhithe is mentioned in the following documents:

Bermondsey Street is mentioned in the following documents:

Bermondsey Abbey is mentioned in the following documents:

St. George Southwark is mentioned in the following documents:

Kent Street is mentioned in the following documents:
Variant spellings
Documents using the spelling Borough of Southwark

Documents using the spelling Bridge Ward without

Documents using the spelling Bridge ward without

Documents using the spelling Bridge Ward Without

Documents using the spelling BRIDGE WARD WITHOVT

Documents using the spelling Bridge warde without

Documents using the spelling Bridge Warde without

Documents using the spelling Bridge Without Ward