Durham House
Durham House
was located in the
Strand
, west of
Ivy Bridge Lane
. It stood at the border between the Duchy of Lancaster and Westminster. Initially built for the bishops of Durham, the house was eventually owned by principal secretary to the monarch and chancellor of the Duchy of Lancaster,
Sir Robert Cecil
. A piece of land on the south side of the
Strand
and between
York House
and the
Durham House
gatehouse
became the site of
Cecil
's
New Exchange
, also named
Britain's Burse
by
James I
at the opening ceremony in 1609.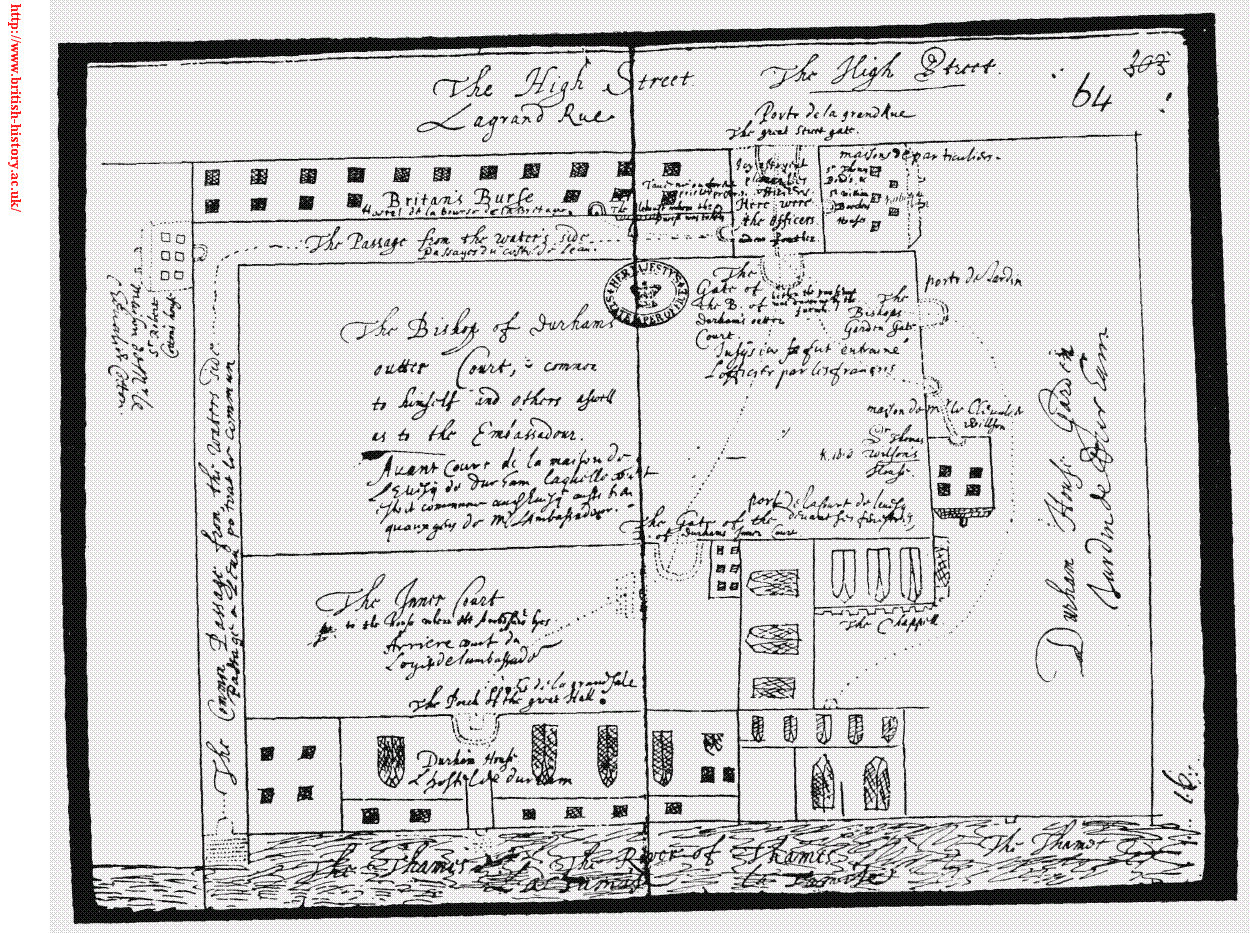 Cite this page
RIS file (for RefMan, RefWorks, EndNote etc.)
Provider: University of Victoria
Database: The Map of Early Modern London
Content: text/plain; charset="utf-8"

TY  - ELEC
A1  - Baldwin, Neil
ED  - Jenstad, Janelle
T1  - Durham House
T2  - The Map of Early Modern London
ET  - 7.0
PY  - 2022
DA  - 2022/05/05
CY  - Victoria
PB  - University of Victoria
LA  - English
UR  - https://mapoflondon.uvic.ca/edition/7.0/DURH1.htm
UR  - https://mapoflondon.uvic.ca/edition/7.0/xml/standalone/DURH1.xml
ER  - 
TEI citation
<bibl type="mla"><author><name ref="#BALD1"><surname>Baldwin</surname>, <forename>Neil</forename></name></author>. <title level="a">Durham House</title>. <title level="m">The Map of Early Modern London</title>, Edition <edition>7.0</edition>, edited by <editor><name ref="#JENS1"><forename>Janelle</forename> <surname>Jenstad</surname></name></editor>, <publisher>U of Victoria</publisher>, <date when="2022-05-05">05 May 2022</date>, <ref target="https://mapoflondon.uvic.ca/edition/7.0/DURH1.htm">mapoflondon.uvic.ca/edition/7.0/DURH1.htm</ref>.</bibl>
Locations
Named for its location on the bank of the

Thames

, the

Strand

leads outside the City of

London

from

Temple Bar

through what was formerly the Duchy of Lancaster to

Charing Cross

in what was once the city of

Westminster

. There were three main phases in the evolution of the

Strand

in early modern times: occupation by the bishops, occupation by the nobility, and commercial development.

The Strand is mentioned in the following documents:

Ivy Bridge Lane is mentioned in the following documents:

Located on the northern bank of the

Thames

,

York House

was just west of

Durham House

, on the south side of the

Strand

. Records of

York House

date back to the thirteenth century, when the location was owned by the Bishops of Norwich and was referred to as

Norwich Place

(

Gater and Wheeler

). In

1536

,

Henry VIII

granted

Norwich Place

to

Charles Brandon

, Duke of Suffolk (

Gater and Wheeler

). In

1556

, the Archbishop of York,

Nicholas Heath

, purchased the residence, which would thereafter be called

York House

(

Stow 1598, sig. 2B3r

).

York House is mentioned in the following documents:

The construction of the

New Exchange

in

1608–1609

demonstrated the efficiency of

London

development under the supervision of Lord Treasurer

Sir Robert Cecil

, established a significant competitor to

John Gresham

's

Royal Exchange

, and expanded

London

fashion westward. Nicknamed

Britain's Burse

by

King James I

during a christening entertainment staged by

Ben Jonson

, the

New Exchange

became a symbol of commercial strength in a consolidated British kingdom, as well as a new indoor model of shopping that invited more women into the sphere of luxury sales and consumption throughout the

seventeenth century

.

New Exchange is mentioned in the following documents:
Variant spellings
Documents using the spelling Bishop of Durham house

Documents using the spelling Biſhop of Durhams houſe

Documents using the spelling Durham house

Documents using the spelling Durham houſe

Documents using the spelling durham house

Documents using the spelling Durham House